Real Estate Attorney Resume Sample & Writing Tips 2023
A real estate lawyer specializes in commercial and residential construction litigation and property management. It is a field that continues to grow, especially as experienced attorneys begin to consider retirement. While earning a legal degree and completing an internship is required, every candidate will eventually draft their first Real Estate Attorney Resume before starting this career.
If there is an industry that will always require specialists – it's construction and real estate manners. While some areas of the United States are redeveloping and repurposing older buildings, some states are beginning to see a dramatic growth spurt. While it's everyone's best intention to complete construction and property transactions with ethical business standards, some situations require the expertise of a real estate attorney.
A real estate lawyer resume follows the same format and structure as any other attorney position. However, the attention to detail, word choice, and quality of its content can separate candidates from contenders to pretenders.
So – how do you write an estate planning attorney resume? Are there action verbs that are relevant to being a successful attorney? More importantly, is it a better or more efficient way to organize and edit content for your real estate lawyer resume? These are a few of the questions we will explore in the article below.
Sample Real Estate Attorney Resume
There is nothing overly complicated about creating a resume as a real estate attorney. The resume should include your personal contact information, practical and required education, relevant work history, certification to practice law in the state you desire to work, and references to support your application. The key to separating your resume from others in a pile is structure, word choice, and building a case throughout the resume.
So – where do you start?
We strongly believe that the best way to learn how to write any resume is to review a professionally written real estate attorney sample resume. Take some time to check each section of this real estate and land use attorney resume sample.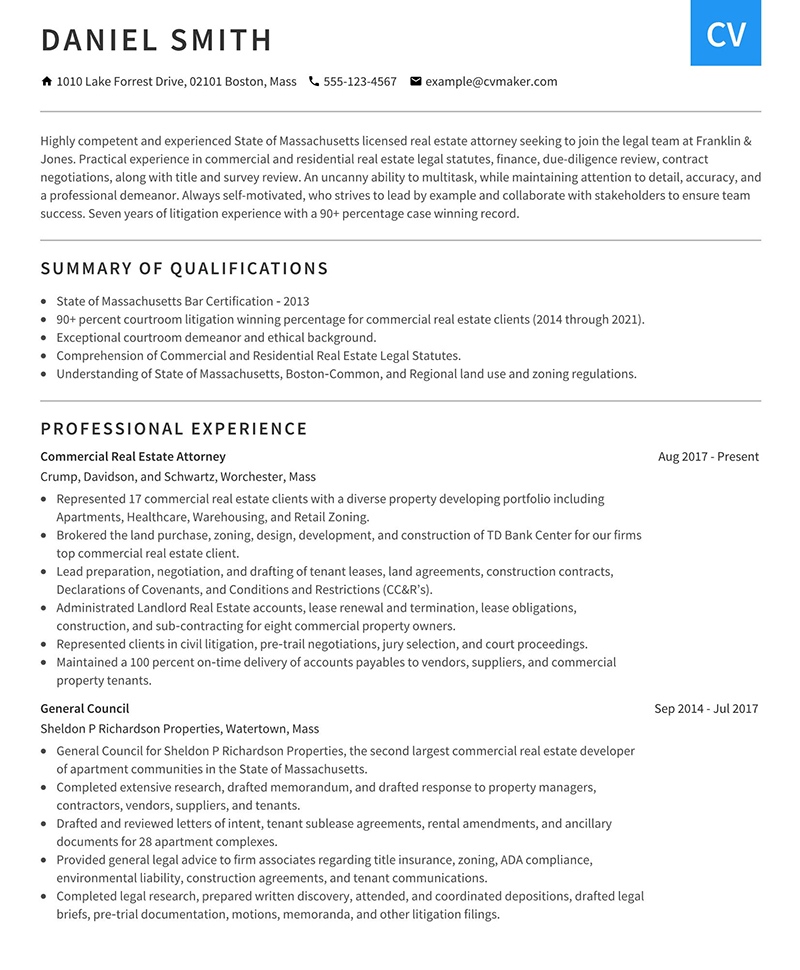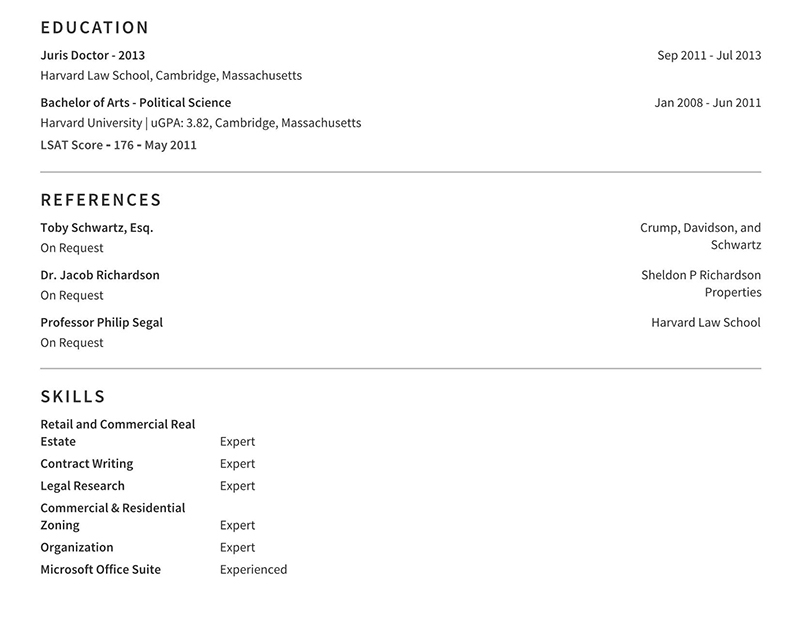 Attorney positions are challenging to retain, especially when applying for jobs in an unfamiliar area. While you might have the most experience, the first step is to interview a real estate lawyer. To accomplish this, you need a real estate planning attorney resume that tells a story and supports your argument of being the ideal candidate.
Writing a resume is like building a legal case. It starts by introducing yourself to the court, followed by a strong opening statement that clearly articulates your position. Those who win many legal cases support their argument with evidence. This is represented in your practical work experience, education, and certifications.
Your reference section is the expert witnesses that provide validity to your case – and ultimately, can be the difference between winning and losing a lawsuit.
The real estate and land use attorney resume sample of our candidate Daniel Smith below gives you a real-world example of how to build a strong CV. Some of the real estate attorney resume example highlights include a customized personal statement explicitly written to the firm Mr. Smith has applied.
As you continue into each section, all entries are easy to review, listed in reverse chronological order, and highlight their unique accomplishments. To help you write your real estate and land use attorney resume, let's break down each section included in this sample real estate attorney resume.
Tips on How to Write a Successful Real Estate Attorney and Estate Planning Attorney Resume in 2023
It takes years of education and dedication to become a successful real estate attorney. The career path typically begins in high school, when you'll take electives and participate in extracurricular activities that help gain entrance to a solid University. During the journey, they will understand legal statutes for zoning, leasing, commercial leases, lease agreements, and other areas of real estate law.
They'll earn their bachelor or arts degree - followed by a Juris Doctor and finally internship with an experienced real estate attorney. While these accomplishments are vital to mention in your entrance resumes, applying for a real estate or estate planning lawyer position requires relevant entries in each section.
Let's provide an overview of what should be included in your attorney resume.
Personal Contact Information: The first item to include on any resume is your correct contact information. You'll want this listed at the top of your resume.
Professional Summary – Listed under your contact information – or next to it in the body of the resume, is your professional summary. It's your opening statement and first opportunity to separate yourself from other candidates.
Summary of Qualifications: Each lawyer possesses a particular set of skills and qualifications that allow them to accelerate in their specialty. This is the section where you list those bullet points such as completing due diligence, commercial real estate transactions, foreclosure, and real property case filings.
Work History: A real estate attorney must showcase practical work experience in this section. If you review a junior real estate attorney resume sample – you'll notice they will list their internships and law clerk positions.
Education: This section is straightforward. You should only list your professional law degree earned – as that's required. There is no need to add your bachelor's degree.
References – It's best to select three contacts – two professional and one personal.
Skills: The final section of your resume is the skills section. You can format this at the bottom or on the side sections of your real estate transactional attorney resume.
There is a lot to digest in the information above. However, like any task, creating a plan of attack or outline is a great way to ensure success. In this case, it is accomplished by creating a master resume. Consider this as a working document that will permit you to list each significant section, add content in each, and then edit and organize as needed.
Now that we have a solid overview of what you should include in the real estate and land use attorney resume, let's review each section to provide some practical tips and advice.
Section #1 – List Your Contact Information
Every attorney needs to display accuracy and attention to detail in every aspect of their job. Applicants seeking to earn real estate lawyer positions must prove this skill on their application, cover letter, and resume. It begins by ensuring all your contact information is 100 percent correct and up to date.

This image showcases a great example of how your personal contact should be displayed on a resume. For a legal career resume, it's a good idea to include your full legal name, mailing address, email, and mobile phone. It's common for larger firms to employ HR or hire firms to weed through candidates. These companies utilize automated software solutions that help them contact candidates for interviews.
If you don't have contact information that you can access via your mobile device, it's more than likely that you'll miss that important text or email. Also, if you prefer to add Esq. to your name, that's completely fine – as it's a professional title you've earned.
How to Format this Section
The contact information section is simple – and should be easy for the resume reader to review. Most resume-building templates make it easy to format the contact details – many allowing you to pick different layouts that fit you best. Just keep the contact information simple. There is no need to include your social media pages on a resume. Provide that information if asked by prospective employers.
Section #2 – Professional Summary
We addressed the importance of the professional summary earlier in this article – but it's crucial to drive this point home. Arguably, this is the most time-consuming section of any resume to write. And quite frankly – it should. Readers of any resume – even automated software programs – will review this section first. They are looking for customization, vital skills relevant to being a successful real estate lawyer, and interpersonal skills critical for being a solid contributor to the law firm.

Your professional summary needs to start with your desire to join the firm or company you hope to join. As you can see in the image above, Daniel is applying to a firm in Boston called Franklin & Jones. It's also critical to list your years of experience, key accomplishments, and details about your work ethic that separates you from competitors. If you've served as general counsel for a company or only have associate attorney experience, it should be explained here.
Real Estate attorney positions require candidates to possess experience in legal research, dispute resolution, legal compliance, and arbitration experience. They should also have strong written and oral communication skills, a persuasive nature, and discretion of clients' personal information.
How to Format this Section
Your professional summary is a paragraph of powerful statements introducing yourself to prospective employers. It should be 250 words, written in a professional yet conversational tone, and easy to read. Write this section like a personal letter – not like legal documents.
Section #3 – Summary of Qualifications
Continuing through the resume comes to another vital section – your summary of qualifications. This section will outline your compulsory education, State Bar Exam scores, and special certifications that may be required for real estate lawyers in the state you are applying. It's also important to document your key accomplishments where you've separated from others.

If you are applying for a junior real estate attorney position, consider listing a few of the key accomplishments during your internship, in law school, or college – where you showcased leadership skills.
How to Format this Section
Our candidate Daniel used a professional template to write his commercial real estate attorney resume. You'll notice that he listed his qualifications in bullet-point format. It's essential to list the required qualifications first in this section, so make sure to read your job application or posting carefully.
Section #4 – Relevant Work History
If you're curious, a law firm is likely not interested in your high school career as a grocery store clerk. A real estate attorney is a professional – who has earned a professional degree after several years of education. When applying for this position, it's vital to list relevant work experience that displays your critical achievements while serving in this competitive industry.
If you're applying for your first real estate attorney position, make sure to list at least two prior internships or legal appointments. This can include jobs as paralegals, associate lawyers, or any job where you've provided legal advice in real estate legal matters. It's always best to use previous jobs where you learned from seasoned real estate lawyers justices who served on real estate or civil cases.
How to Format this Section
Resume writing best practices suggest listing all previous employment in reverse chronological order – or from most recent to former positions. Always list the name of the company, the location, and dates. You should also document a few key bullet points of tasks, duties, or accomplishments.
Section #5 – Education
Every real estate attorney in the United States needs to pass their Bar Exam. Earning a Juris Doctor degree is the first step to passing the Bar and becoming a real estate lawyer. While the education section can separate some candidates, it's not as crucial with lawyer positions. The main requirement of being licensed in the state where the candidate wishes to practice and a current Bar certification is what most law firms review.

You're going to write your Bar Exam test results in the Summary of Qualifications – so there is no need to list that information in the education section. The image above shows you how simple - yet clean this section should appear on your resume.
How to Format this Section
The education section of every resume should be kept simple. List the name of the Law School, location, dates of attendance, and the degree earned. You can list your law school entrance LSAT scores in the Summary of Qualifications section – but there is no need to list them here.
Section #6 – References
Your references can help you gain the job – if they are the right ones for the position you have applied to. References on a legal resume are mainly intended to provide credibility and support to the information you've listed on the application and resume. They are designed to provide practical input about your legal skills, personality, professionalism, and work ethic.
Take a look at the image below and you'll see how a reference section should appear on the final resume.

The references you choose should be actively involved in the legal profession. It's best to use a former attorney or partner you worked with, a judge who you served as a clerk or a law professor. For personal reference, it's best to choose someone you know who can vouch for your character.
How to Format This Section
Legal position references must be written in a straightforward format. List the name of the connection, their place of employment (or where you connected), and the phrase "available upon request." If a law firm wishes to contact your references, you will supply their private information to them individually. This is done to protect their privacy – and any hiring firm will notice this.
Section #7 - Skills Section
The final section for a real estate lawyer's resume is the skills section. These are simple bullet points of vital soft and hard skills that help you become a solid and trustworthy attorney. Many people use a resume builder – that will allow you to list the skills and assign a level of ability.

The skills you should select help you complete the daily tasks involved in real estate attorney positions. These would include contract writing, retail, residential, or commercial real estate experience, legal research, zoning, creative problem solving, and multitasking. For good measure, it's a good idea to list one software specialty. You can see that Daniel has chosen to showcase his abilities with Microsoft Office Suite.
Other Legal and Attorney Resume Templates 
There are several types of lawyers – who specialize in multiple industries. While each attorney position requires specific skills, experience, or qualifications met, there are several similarities with resumes for these jobs. It's always a good idea to research or gain additional resources when assembling any document.
If you are looking for professionally-written legal profession resumes, we've collected several for you to review in the direct links posted below.
Final Points on Real Estate Lawyer Resumes
There will always be a need for attorneys – especially those who manage and help arbitrate real estate transactions and legal issues. However, this industry continues to collect the best candidates who are searching to enter a legal field with stability and growth potential. With that said, writing a high-quality real estate attorney resume is the best way to gain that valuable interview.
Here are some final thoughts to remember when writing and formatting the resume.
Start by using a Master Resume to flesh out all sections.
Structure the resume to build a case – from start to finish.
Make sure your resume has a natural flow and is written with a conversational tone.
Always write your resume on a plain white background with black font.
Edit the document SEVERAL TIMES – through Grammarly.com and visual inspection.
Ensure its well-spaced, organized, and professional.
Finally, read it aloud a few times before you're ready to paste the content into an attorney resume template.
The best real estate attorney resumes showcase the experience and personality of the candidates. If you can infuse both critical elements, sprinkle in those key action verbs, and prove why you're perfect for that job, you'll have a better chance to dazzle them during an interview.