Nanny Resume Example, Template & Writing Tips for 2023
As a top-notch nanny, you're dedicated, caring and invested in your responsibilities.
Children love you, and parents trust you absolutely.
But do you know how to convey this vital info on your nanny resume?
To land top-notch nanny jobs, your resume must convince parents they can trust you with their children.
Thing is, nannies are caregivers and don't usually know how to write a winning resume for nanny jobs.
This article has resume writing tips, samples, examples and resume templates for you to write your perfect resume now.
Nanny Resume Sample
These nanny resume examples show you how a professional resume is done. Use them, whether you're a professional nanny, babysitter, or just getting into it.
Going through full-time nanny resume samples shows you how your nanny resume should look.
Biella opted for our Stanford resume template in caring, compassionate pink in this sample resume for nanny jobs.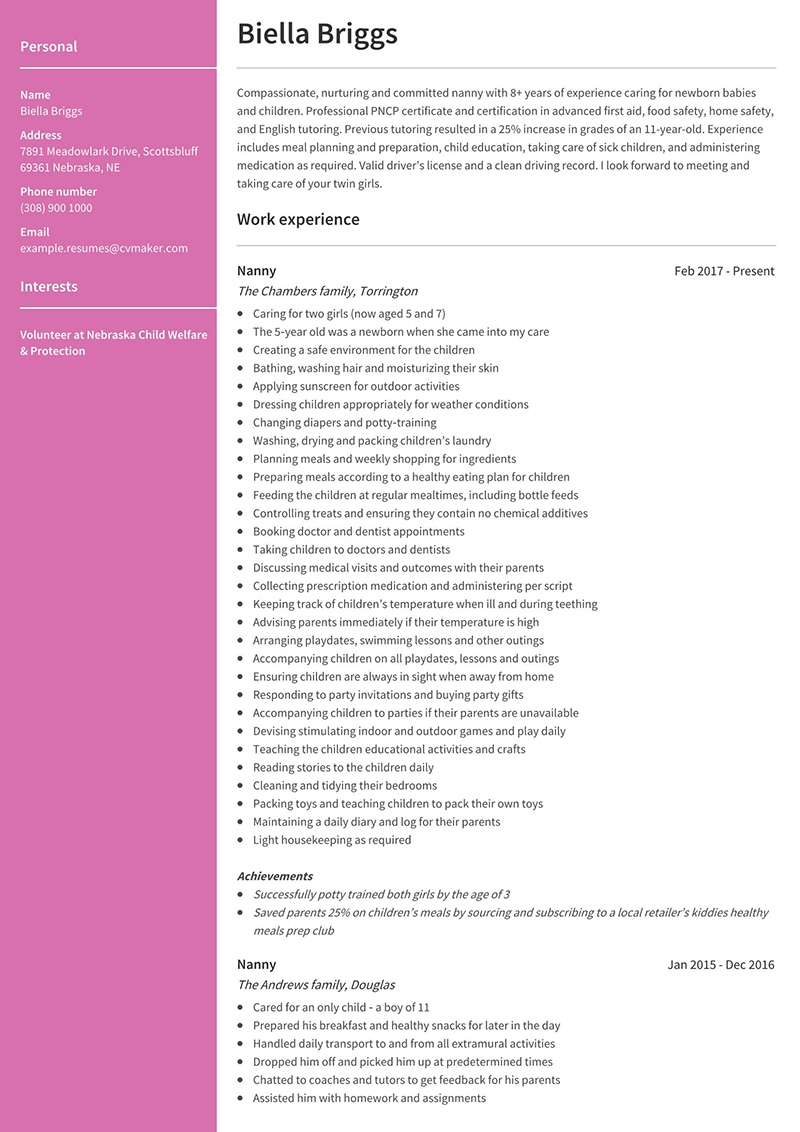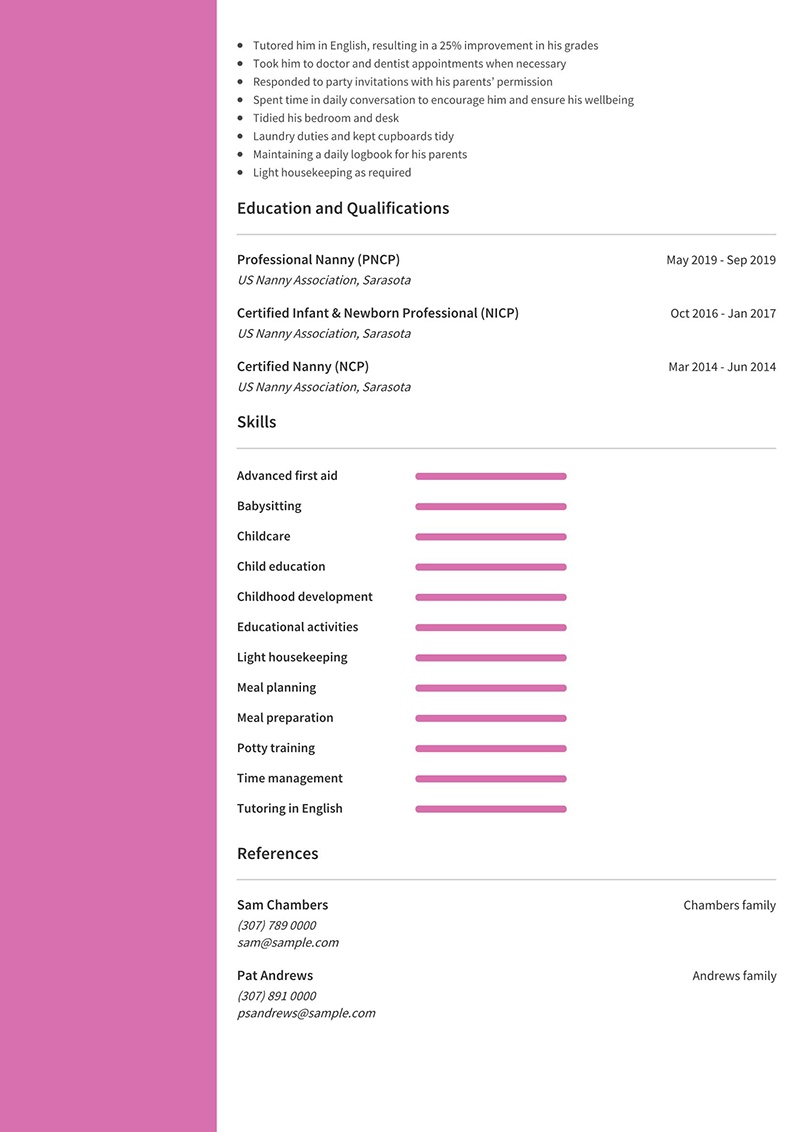 How to Write a Good Resume for Nanny in 2023: Professional Nanny Resume Description & Guide
Don't worry about how to put nanny on resume templates. It will all make sense as you go along if you follow our winning formula.
The secret to getting parents to hire you is assuring them you have the right skills and personality traits. Entrusting their precious children to your care takes a massive act of faith on their part.
Show their trust isn't misplaced by crafting your nanny job description for resume purposes with honesty and care.
Doting parents will spend time reading each nanny resume they receive. So, to stand out from the rest, your professional experience must have heart.
A great nanny is caring, trustworthy and reliable. They're also adaptable to care for children like their parents prefer.
Because children spend so much time with their nanny, parents must be entirely comfortable with their caregiver.
What's more, nannies care for children of various ages and personalities. They must see each one as the individual they are.
Not everyone is cut out to be a nanny. Let it shine through in your nanny duties resume if you've got what it takes.
Some parents post their own vacancies. However, most use agencies to connect with nanny job seekers.
Local and international nanny agencies use keywords to select professional nanny resumes. For them, it's a simple process of loading job ads with critical keywords. They then rely on parsing software in ATS to search and select resumes.
If the keywords are identified, you get through; if not, your nanny resume gets dumped.
Scan all adverts for nanny jobs and identify keywords. That way, you give recruiters and parents what they want by mirroring their needs.
Much more goes into writing the perfect resume, however. The resume format is as important as the content.
Personal Information
If your nanny resume hasn't got your personal info correct, you're uncontactable. You'll never hear back no matter how much you want a nanny position.
Ensure you get it right. Even swapping two characters can leave you out in the cold.
Roping in a resume builder helps you focus on what matters. Resume builders are super user-friendly, giving you time to concentrate on what matters.
Personal Information Example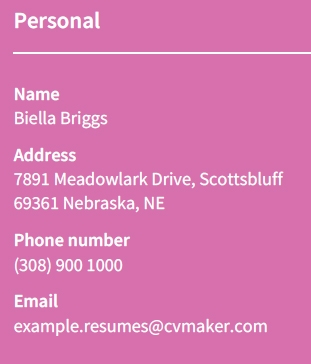 Well-spaced, accurate and to the point like this nanny resume sample.
How to Format this Section
All you need is your full name, address and contact information.
Using a business font makes it reader-friendly.
Resume Objective
Your nanny resume objective is the first thing parents see. It's your only chance to make a good impression.
Also known as a summary statement or resume summary, a resume objective differs from a cover letter.
A resume objective summarises your years of experience, including hard skills and soft skills. Whereas a cover letter has much more details.
An objective convinces parents you're the nanny they want in very few words.
Take your time and use positive, convincing language with numbers and stats for maximum effect.
Look at these two nanny resume objective examples.
Objective Example for Resumes for Nanny with no Experience

This aspiring nanny has no experience and is shifting from babysitting to full-time childcare.
Objective Example for Experienced Nanny Resumes

In contrast, this nanny uses keywords and numbers to persuade parents to arrange an interview.
How to Format this Section
A resume objective allows you only around 50 to 80 words to convince parents you're worth interviewing.
Creatively combine keywords, work experience and certifications with numbers for a lasting impression.
Take keywords from the job post and only mention the skills and work experience required. Expand on the info in your resume objective in your nanny duties resume.
It's crucial to never inflate your skills and experience. If it comes out, you'll regret it.
Professional Work Experience
The professional work experience section is where you tell parents what you can do.
Ensure your nanny responsibilities resume blows parents away. Do this by first creating a master list of all your childcare skills. Save this list to draw info when you apply for nanny jobs.
Success comes from reading each job ad closely to isolate keywords in the job description matching your experience and certifications.
Next, write them into your nanny job description for resume purposes, mirroring keywords exactly and in the same order.
The best resume format is reverse-chronological if you wonder how to list nanny experience on a professional resume. Work history gets listed in descending order starting with the most recent.
Some common keywords that appear in a nanny responsibilities resume or babysitter description for resume purposes include –
Babysitter
Babysitting
Childcare
Childcare experience
Child care provider
Child development
Daycare
Diapers
Driver's license
Driving record
Early childhood education
Educational activities
First aid
Light housekeeping
Meal preparation
Part-time
Play dates
Safe environment
Special needs
Time management
Well-being
Young children
Professional Work Experience Example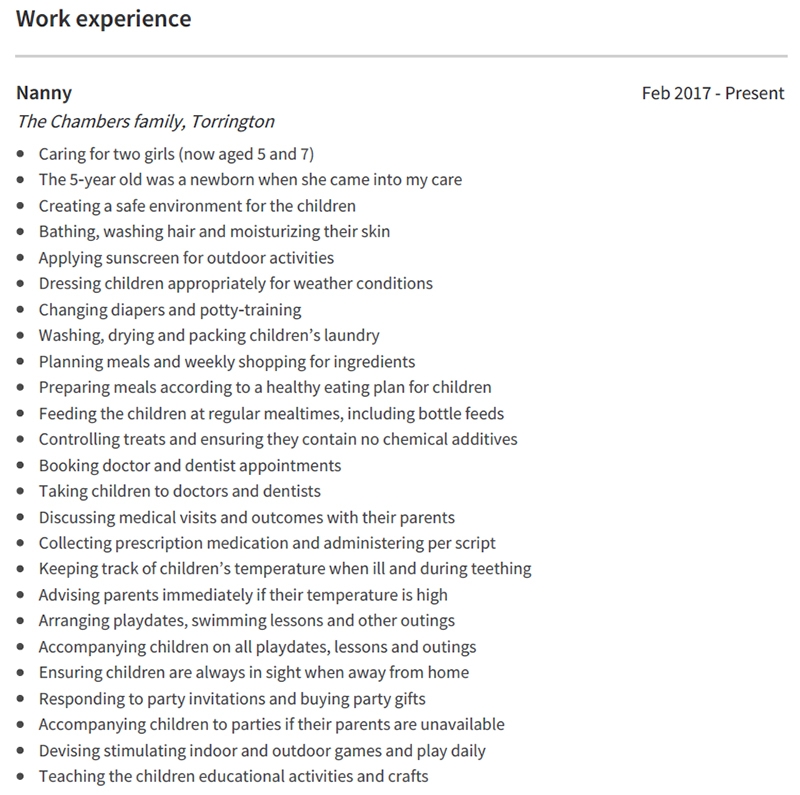 Nanny experience on resumes must contain vital keywords as in this nanny resume description.
How to Format this Section
This section needs business style fonts, bullet points and lots of white space. Use a resume builder to get your resume format on point.
Keep the wording of your professional resume short but ensure you don't omit crucial details.
Each requisite job responsibility must fit into a bullet point listed in the same order as the job advert.
Education and Certifications
Nanny jobs don't need more than a high school diploma.
Parents are more impressed, though, by nannies with certifications in the education section of their professional resume.
Knowledge of first aid, meal preparation and special needs, for instance, are essential for any nanny.
The US Nanny Association offers various certifications to develop your skills and qualify your professional experience.
Education Example

Resumes for nanny jobs list certifications in descending order in the education section.
How to Format this Section
As in our nanny resume template, keep details factual and to the point.
Start with your most recent certification, listing the training institution, followed by the certification and work backwards.
Skills
Both nanny resume skills and babysitter resume skills are crucial to landing the right job.
You'll find the essential skills in job descriptions. Pick them up and include them in the skills section.
Hard skills count as much as soft skills for childcare jobs.
Take your time writing nanny and babysitting resume skills. The extra effort will pay off.
Skills Example
Rating your nanny skills level gives parents more insight, as in this nanny resume skills example.
How to Format this Section
Only list skills mentioned in the post. Keep them short and add a rating.
Your other nanny skills can be discussed in interviews.
References
End your nanny resume with references.
Don't include too many details for security reasons. Unless the job ad states explicitly that contactable references are required, you can list references as available on request.
References Example

Follow this nanny resume example and simply list past employer names and contact details.
How to Format this Section
Note the clean, direct approach.
Other Related Resume Templates
Nanny resume template not what you're after?
Aside from nanny resume examples, we've got plenty of others. Take a look -
Final Points on Writing Resumes for Nannies
We hope this answers all your questions on how to list nanny experience on a professional resume.
Before we go, here are some final resume writing tips -
Use the correct resume format
Extract keywords from each job post
Take time selecting resume info
Use clear and concise wording
Include numbers and statistics
Use upbeat, positive language
Stick to a two-page resume
Send your resume in pdf format