Business Analyst Resume Sample, Example & How to Write Tips 2023
As a business analyst means you're both versatile and analytical. You understand many different business requirements and can interpret loads of detailed data. Over and above, you're a superb forward-thinking business problem-solver.
Whilst you love your job's diversity, things get tricky when it comes to your business analyst resume. How do you best share your varied skills and experience?
We understand precisely how confusing it can be! That's why we've written this BA resume guide to show you how it's done step by step.
This article leads you through every step of writing a reader-friendly, engaging and winning resume. Whether you're crafting a senior or entry level business analyst resume, we've got you covered, so read on.
Business Analyst Resume Sample
Before you start compiling your resume, spend some time looking at business analyst resume examples.
Seeing how well prepared BA resume samples are designed and worded will give you great ideas and the inspiration to write your own.
All the slick, professional BA resume examples you get to see are prepared using a resume builder, which is the best option for flawless preparation.
They'll help you avoid common mistakes job seekers make and you can download business analyst resume sample pdf files as a handy reference.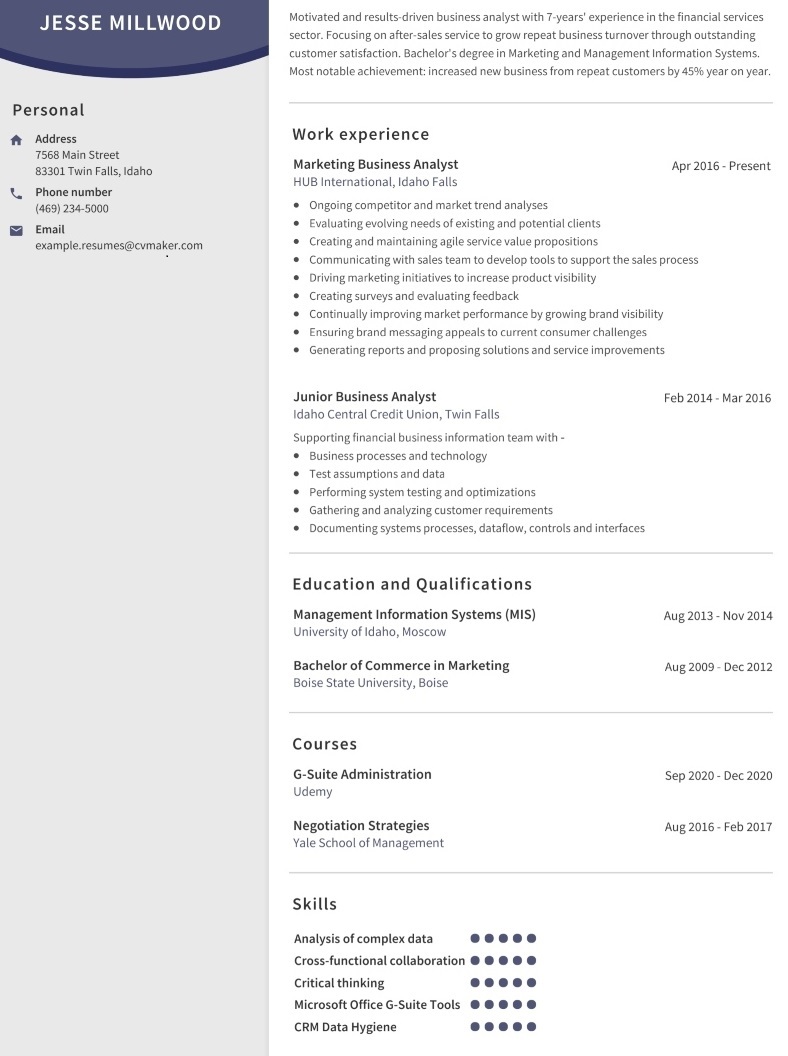 Jesse's opted for the impressive Edinburgh resume template that lets the reader clearly view all pertinent info by scanning through.
How to Write a Successful Business Analyst Resume: Tips that Work in 2023
Now that you know what's involved, let's get started on how to write your business analyst resume.
Each step in the process is vital to creating a high-quality BA resume.
First, let's chat about applicant tracking systems, or ATS, used by most companies. ATS come with parsing software that scans for specific keywords. They make life easier for recruiters, but can be the downfall of unaware job seekers.
A job post created via an ATS has crucial keywords included which also appear in the job post. It's the first point for screening all new job applications.
If your resume doesn't contain vital keywords, it will automatically be rejected. So, even the best business analytics resume can get binned without anyone seeing it if it's not written properly.
Personal Information
Although this seems obvious, many people get it wrong by providing either scant or incorrect details, mainly for contact information.
List your full name and ensure your contact numbers and email address are correct. A link to your LinkedIn profile is optional.
Keep everything professional, especially if you're an entry level business analyst fresh from college. Your friends might laugh at "littlerubbish@...", but it will put a recruiter or hiring manager right off.
Personal Information Example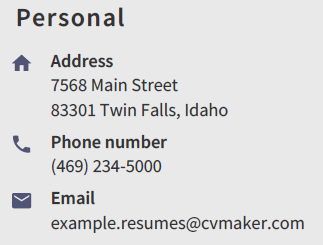 As a rule, you begin with your full name, physical address, and contact details. It's optional to list your full home address or just the city and state. This info can be provided if requested.
How to Format this Section
Keep this section as clear and succinct as possible.
Avoid unnecessary details and fancy fonts that can confuse the reader.
Stick to a simple font with enough spacing between your name, address and contact details to make it legible.
Even the slightest complication on resumes for business analysts can make the reader move on to the next one.
Recruiters scanning a resume for the first time spend only a few seconds doing so. They know what they're looking for and move on quickly if they don't find it.
Resume Objective
Apart from your personal information, your business analyst resume objective will be the first thing the reader sees.
Consider a resume objective or summary as a sneak preview of the value you have to offer prospective employers.
This is your first opportunity to make a positive impact.
It's essential to understand the purpose of a resume objective. You want to hook the reader's attention and get them to read on. They want to know whether you can add value to their business as quickly as possible. That's the only reason to write a resume objective.
Write a new resume objective for each vacancy you apply for, adapting it to meet the criteria of each job post. A generic resume objective for each application will see you getting no responses.
Here are three business analyst resume summary examples -
Resume Objective for Entry Level Business Analyst Resume
Keen newly graduated entry level business analyst with strong analytical and communication skills looking to develop and grow in the retail sector. Recent Bachelor's degree in Business and Data Science is complimented by Retail Management Diploma and three years retail management experience.
This entry level business analyst resume sample objective focuses on education and soft skills.  At this stage of an entry level career, these are the most vital to highlight. What is in the objective can be expanded on in the resume.
Resume Objective for a Mid-Career Business Analyst Resume
Motivated and results-driven business analyst with 7-years' experience in the financial services sector. Focusing on after-sales service to grow repeat business turnover through outstanding customer satisfaction. Bachelor's degree in Marketing and Management Information Systems. Most notable achievement: increased new business from repeat customers by 45% year on year.
With 7 years of success as a business analyst, this BA can be considered mid-level. In only a few words, the reader can tell what industry the candidate comes from and that they're focused on business growth through marketing objectives. Education and qualifications still matter, but there's more emphasis on achievement.
Resume Objective for Senior Business Analyst Resume
Results-driven expert business analyst responsible for numerous projects within leading medical equipment manufacturer and collaboration within the industry as a whole. Team management of 20+ BAs. Expectation and stakeholder management. Over 15 years experience in streamlining manufacturing processes to improve quality and reduce cost. Most recent achievement: end-user cost of orthopedic aids reduced by 8% while profits increased by 11% through improved sourcing of raw materials. 
Notice that this resume objective doesn't mention education. With over 15 years of proven experience, it doesn't matter as much for this candidate. Their successful track record will be detailed in their resume and achievements discussed during the hiring process.
How to Format this Section
Your business analyst resume objective shouldn't be more than a few sentences comprising no more than around 50 to 60 words.
Use it to highlight only your strongest hard (technical skills) and soft (interpersonal) skills and include numbers for more impact.
For example, if you have 10 years of experience, the reader knows right away you're not a junior or entry level candidate. If you've saved a previous employer thousands of dollars, include it, but make sure it's relevant.
Once you're done, scan over it and see if it describes you and highlights your major selling points in just a few words.
Professional Work Experience
The experience section is where recruiters and hiring managers go first. It's also where parsing software scans for keywords.
Most experienced business analysts are multi-skilled and have worked in various industries. It's imperative to tailor your business analyst roles and responsibilities resume to the job post.
Read through the business analyst job description thoroughly and closely match your work experience with the requirements. Keep your focus on key requirement criteria only.
Usually, the prime keywords already appear in the job title. Each organization has their own lingo, but look out for keywords like -
Business process
Business analytics
Business intelligence
Business systems
Project management
Business administration
User acceptance testing
Decision making
Deliverables
Forecasting
Data analysis
Life cycle
Tableau
Visio
SQL
The language on your resume for business analyst jobs must be adapted to match the words listed in the post, considering they're keywords.
In general, most resumes are written in a reverse-chronological format, starting with your most recent job and work experience, and continuing in descending order. It's a reflection of your career progression.
Now, based on your actual work experience, mirror what they're looking for, remaining focused on their immediate requirements. This is what will get you on the interview shortlist.
Take your time and write each point in a concise, detailed way to highlight your abilities and achievements.
Professional Work Experience Example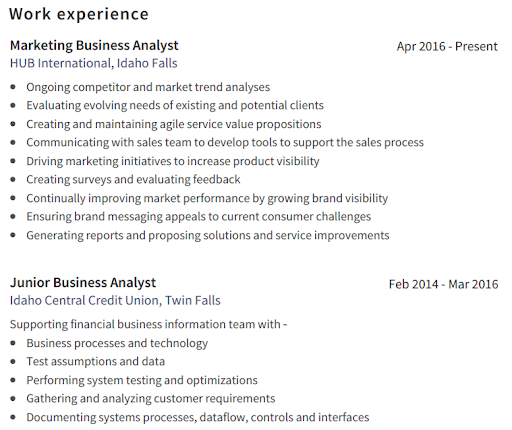 Always use bullet points for easy reading so prospective employers can easily see what you're capable of.
How to Format this Section
Craft each individual responsibility to fit neatly into a bullet point. This might take a bit of creativity, but the time spent will bring rewards in the long term.
List the most important roles first (per the job requirement) and secondary requisites below.
Education
The education section is of most importance when starting your business analyst career. As you gain more years of on-the-job experience, it becomes less significant.
The more limited your working experience, the more you need to focus on relevant education that qualifies you for the job.
Education Example

For a senior business analyst resume, include only your highest level of relevant education. For a hiring team, the main focus will be on experience and skills.
Conversely, a junior business analyst resume or entry level business analyst resume requires more detail around education.
How to Format this Section
Keep this section brief and easy to read. If you're listing a few educational qualifications, list them in descending order, starting with the most recent.
Skills
The skills section is also where recruiters, hiring managers and parsing software will focus early on in the resume selection process.
Any good business analyst has a broad range of skills in their portfolio, ranging from specific technical skills to soft skills like data analysis and analytical skills.
The core role of any business analyst is to understand a business problem, question it, gather relevant data, analyze it and devise a compelling answer or solution.
Just by its nature, you need a vast range of skills to get that right.
Getting this kind of detail into a business analyst skills resume can become challenging if you overthink or try to over-explain.
Skills Example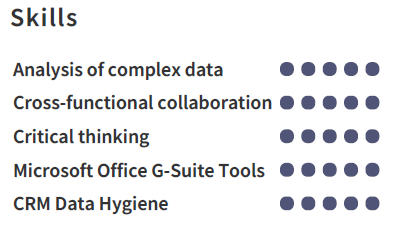 The best way to convey your skills on your BA resume is to list them in order of importance per the job post.
How to Format this Section
List each skill clearly, using as few words as possible in the skills section. Don't over-elaborate here because you want the reader to pick up your skills (and worth to their organization) by merely scanning through.
A rating for each skill is of enormous value because the reader can assess your skills level upfront before contacting you.
Remember to list your skills precisely the way it's written on the job post. Skill types are guaranteed to be essential keywords parsing software will be hunting for. Even swapping words around could see your best-written BA resume being overlooked by parsers.
Courses and Specializations
Apart from formal education and experience, short courses and ongoing learning platforms also count towards your success.
Specialized courses and registrations with professional industry bodies, such as the American Statistical Association, mustn't be omitted because they can make or break your application.
Refresher courses, updated courses in methodology and those in the latest software available are particularly valuable for senior business analysts. They show that you're continually updating your skills.
Of course, entry level and junior BAs benefit from these kinds of courses as well because it shows their enthusiasm and dedication to excel in their career.
Courses and Specializations Example

List courses in the same way education is listed.
How to Format this Section
Keep this section brief and easy to read, similar to how you listed your education.
If you're listing various courses and specializations, list them in descending order, starting with the most recent.
References
References must be listed at the end of your business analyst resume.
Unless the job post asks explicitly for contactable references to be included, you don't have to provide any.
Instead, you can say they're available on request and give details later in the hiring process.
Usually, two references will do. Reach out to your references beforehand and let them know you're back in the job market. In that way, they know to expect contact from recruiters or hiring managers.
References Example

 How to Format this Section
Clear and simple is the only way to go in this section.
You need only the reference name and text below reading "available on request".
Other Business Analyst Resume Templates
Your resume format matters a lot. Even if you have top soft and technical skills, without the right optimization your resume can get overlooked.
Professional resume templates are the best option for any BA who's serious about getting hired. Research shows that resumes professionally created on a resume builder are 65% more likely to make it onto the interview shortlist.
The great thing about using a resume builder is that there are loads of resume examples to choose from. Try the different options for the perfect fit, whether you want a business analyst resume with no experience, mid-level or senior.
Not only do these templates help you get your foot in the door of your dream employers, they save you time. Instead of spending hours trying to format Word documents to create a business analyst resume sample pdf, you can focus on quality content.
Browse through the range of template choices and select one that works to create the perfect bespoke business analyst resume template for you.
Final Points on Business Analyst Resumes
Extract keywords from each job post
Take your time selecting info for your resume
Limit your resume to no more than two pages
Use clear and concise wording
Include numbers and statistics
Focus on your abilities and what value you can add
Check facts before including them
Use positive language and power words
Proofread your resume before sending it out
Pay close attention to resume formatting