Staff Accountant Resume Sample, Template & Writing Guide for 2023
Accounting is a science that takes dedication, study, and specific talents to succeed.
Resume writing, on the other hand, is an art.
Does that mean you'll never have the perfect staff accountant resume?
Not at all!
Between this article, a resume builder, and splendid accounting skills, you'll be wowing recruiters straight onto the shortlist.
Read exactly how to write a perfect resume, even if you don't have a creative bone in your body.
Also, check out completed staff accountant resume samples at different experience levels.
Sample Resume for Staff Accountant
Online staff accountant resume samples aren't all the same.
In fact, many of them can cost you opportunities because they're outdated.
Like everything else, hiring practices and HR tech evolves. If the sample staff accountant resumes aren't up to date, they're pretty useless to you.
These staff accounting resume examples are at the cutting edge of HR systems, giving hiring managers precisely what they want.
Staff Accountant Resume Examples
Each example of a staff accountant resume below is unique regarding skills and work experience.
See where you fit in and start getting inspired.
Entry Level Staff Accountant Resume Example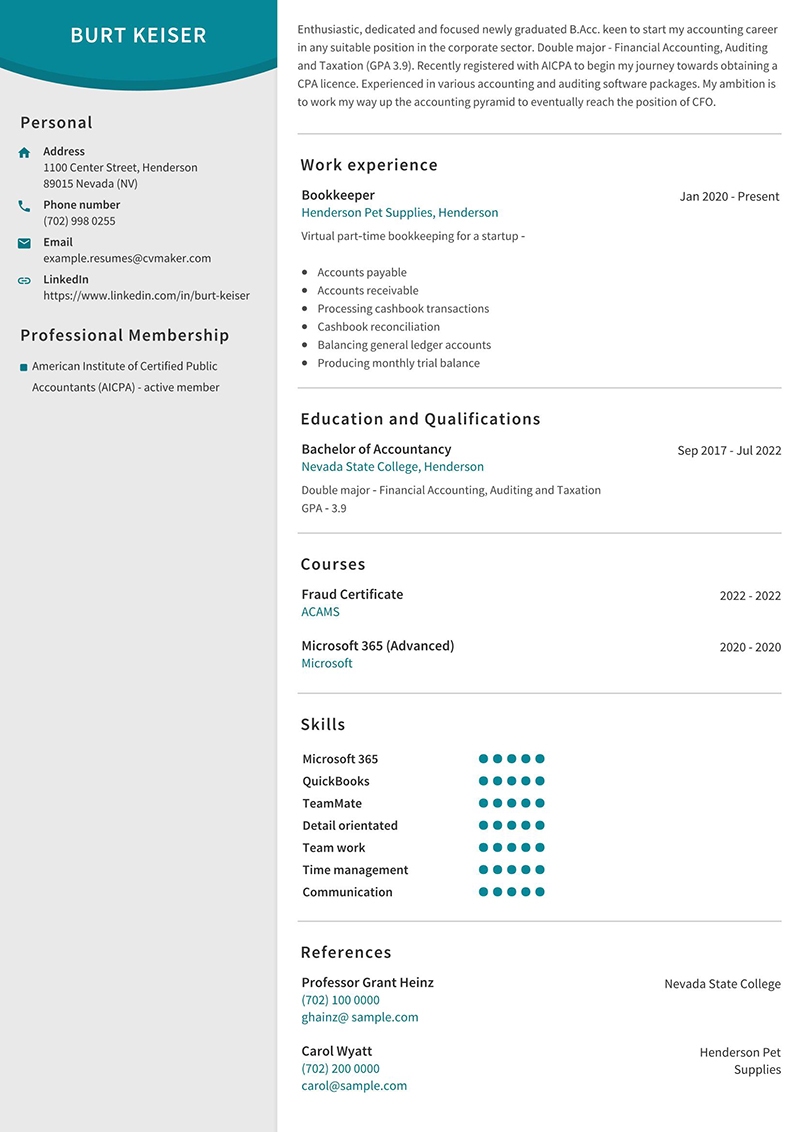 Burt has opted for our Edinburgh resume template in a lighter shade of blue.
Senior Accountant Resume Sample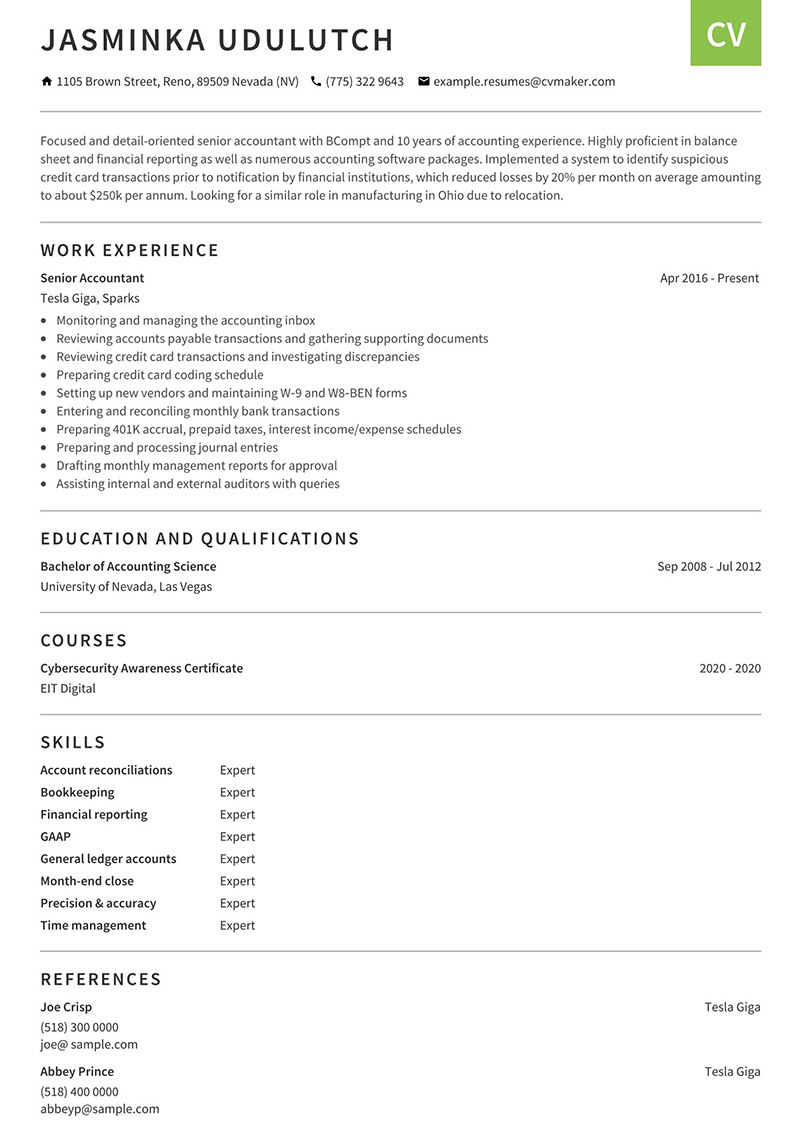 Senior accountant, Jasminka chose our Otago resume template touched with green.
Manager Sample Resume for Accounting Staff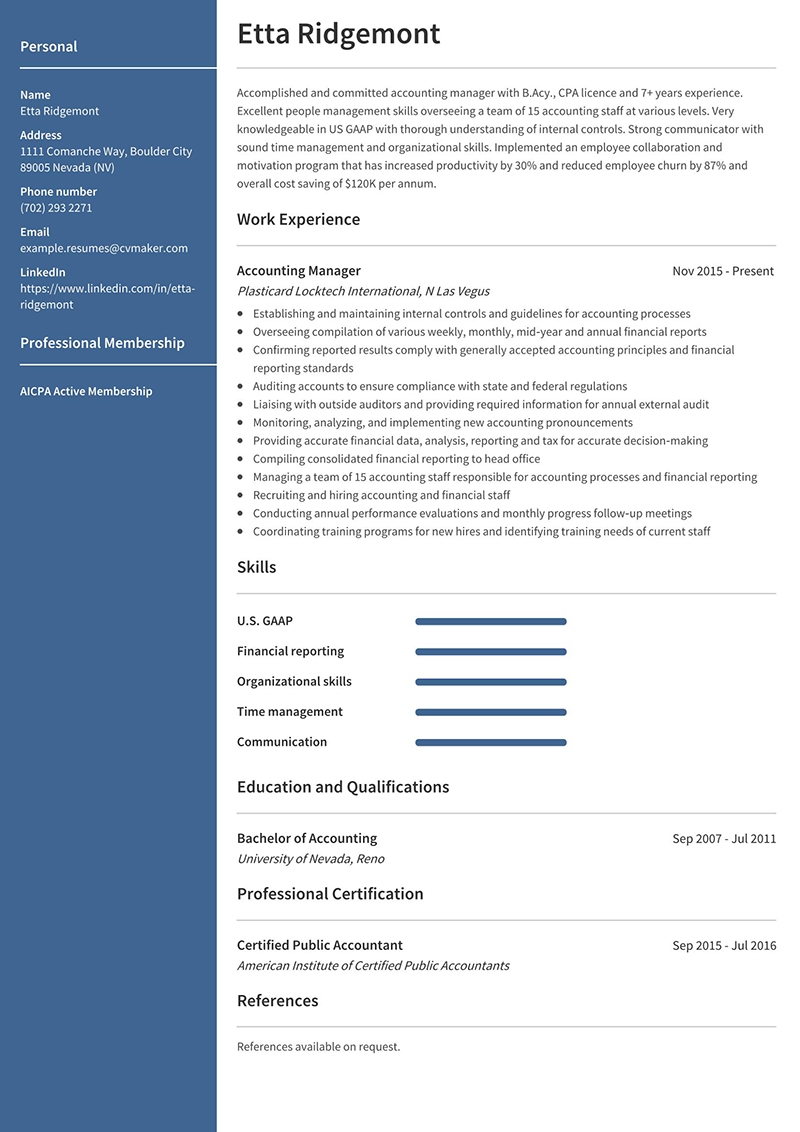 Etta has selected our blue Stanford resume template.
How to Write a Professional Resume for Staff Accountant in 2023: Full Staff Accountant Resume Guide
Staff accountants are either employed in large organizations or accounting firms.
Digitization means accountant jobs can be done remotely, in most cases opening more opportunities and career growth.
Their duties vary depending on the size of the accounting department and the organization. Roles start at entry level to senior accountant and manager.
They're essential in recording and managing all financial transactions, resolving variances, calculating profits and losses and preparing financial reports.
Because of their efforts, business executives know precisely where their organization stands in real-time. Allowing them to do planning and forecasting for expansion or change.
Your staff accountant job description resume must show you've got what it takes to get the job done.
However, that's not just getting any staff accountant job done!
You've got to prove you're better than other job seekers for the specific vacancy advertised.
What does this mean?
Every accounting staff resume you send out must be targeted to the job description in the advertisement.
A pages and pages long generic resume for staff accountant won't impress recruiters, let alone hiring managers.
Actually, they'll never even get to see it.
Today's hiring processes rely heavily on AI to identify suitable candidates in the early stages.
This is done by applicant tracking software or ATS that screen each new application as it comes in.
Within seconds parsers in ATS identify critical keywords that get your staff tax accountant resume on the interview shortlist.
Or not?
If the required keywords aren't there, your staff accountant resume automatically moves to the unsuitable folder, where nobody ever goes.
Write a Job Description ATS Love with a Resume Builder
The secret to success lies in the best use of keywords, and it's easier than you think.
Keywords are education, skills and work experience, essential to succeeding and doing the job well.
You'll find them in the job title and description.
Identify keywords and match them to your bookkeeping skills and work experience. Now, start writing a targeted one-page resume using the exact keywords.
Think a one-pager is impossible?
Look at our staff accountant job description sample to see how it's done.
When you're crafting a junior staff accountant resume remembering everything might be easy enough. But recalling so many details can be challenging after a few more years.
Kick that hurdle by taking time out to compile a master staff accountant resume.
Include every relevant job you've had with a detailed job description, employer info and tenure dates. Add your education, courses and achievements.
Save your master resume and all documentation in a folder. Update it as things change so it's a living document. When you apply for a job, there'll never be a  delay or omission again.
Aside from keywords, you need the correct fonts and resume format with bullet points.
Here's where a resume builder takes over and gets your staff accountant resume in top shape in minutes.
Accounting functions vary; each hiring manager uses their own descriptive terms, but some are universal.
Extract them from the job post and mirror them on your staff accountant resume.
Listed are some typical keywords you'll see in accountant job ads.
Account analysis
 Account reconciliation
Accounting processes
Accounting software
Accounting systems
Accounts payable
Accounts receivable
Accruals
Balance sheet
Bank reconciliation
Bookkeeping
Cash flow
Certified public accountant
Communication skills
CPA
Detail oriented
Discrepancies
ERP
Financial analysis
Financial reports
Financial statements
Forecasting
GAAP
General ledger
General ledger accounts
Internal controls
Journal entries
Microsoft Excel
Month-end close
PowerPoint
QuickBooks
Reconciliations
Reconciling
Tax law
Tax returns
Variances
Personal Information
Adding your personal info to your professional resume seems like a no-brainer.
Do you know how many job seekers are uncontactable because their phone number or email address is wrong?
Don't be one of them by ensuring you list your personal info correctly.
Personal Information Example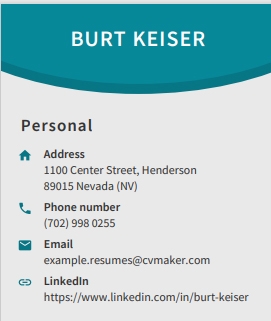 Easy to read and follow personal information.
How to Format this Section
All this section requires is your full name, address, email and phone number.
You can opt to include your full address or just the state.
Resume Objective and Resume Summary
A resume objective and resume summary introduce your staff accountant resume.
Perched right on top, it's a brief synopsis of your qualifications, years of experience, skills and achievements.
View it as an invitation to keep reading and see why you're the best applicant for the job.
There's a slight difference between the two.
Use a staff accountant resume summary when you have around three years of experience and are settled in your career.
Conversely, a staff accountant resume objective statement is for when you just starting out and still need some direction.
Is it the Same as a Cover Letter?
Great question!
No, it's not.
Where an objective or summary summarizes your relevant experience, skills and achievements, a cover letter is much longer.
Like a proper letter, it's addressed to a specific individual at a company and isn't part of the resume.
A cover letter motivates your job application and lets you elaborate on aspects of the vacancy.
Only include a cover letter if -
If the job post asks for a cover letter
You're applying directly and not responding to a public job post
Resume Objective for an Entry Level Staff Accountant Resume

See how this applicant uses their education and future goals to win recruiters over.
Resume Summary Example for a Senior Staff Accountant Resume

This candidate uses experience and quantifiable achievements to build expectations.
How to Format this Section
Both a resume objective and a resume summary must be limited to no more than 80 words.
With such a limited word count, make every word count.
Align it with the role you're applying, include keywords and use quantifiable stats and numbers.
Professional Work Experience
This is the first section ATS will focus on when scanning your staff accountant duties resume.
Ensure you include only the experience mentioned in the post; that's what parsers look for.
A targeted work history on your staff accountant responsibilities resume can convince hiring managers that you're the best candidate.
Remember, the purpose of a professional resume isn't to show off how much you've done; it's to show you've done what they need.
Avoid the temptation to include unmentioned experiences and stick with their keywords.
Professional Work Experience Example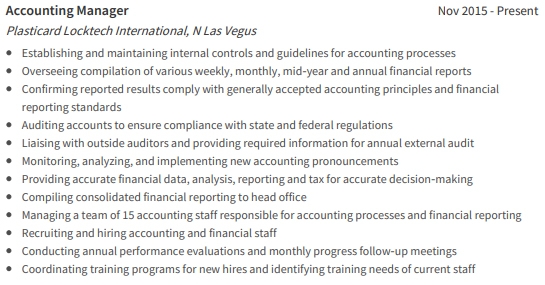 The example of staff accountant resume above lists only duties mentioned in the job post.
How to Format this Section
Make the work experience section easy to navigate.
The reverse chronological resume format works best for staff accountant resumes.
Your resume is scannable and reader-friendly, with clear business fonts, bullet points and plenty of white space.
Each core job responsibility must fit into a single bullet point.
Since several people are likely to view your resume, make it easy to follow, comment, and share.
Lastly, echo the job title and always follow the same order as the job posting.
Education, Courses and Certifications
A staff accountant requires a bachelor's degree in accounting or finance.
However, you can enter the profession as an accounts clerk and study part-time. While this is a longer route to becoming an accounting manager, it works if you can't study right after school.
Short courses are essential as your career progresses. Whether it's refreshers or brushing up on new systems and tech, it's the only way to remain competitive and successful.
Staff accountants mostly require various certifications, usually from a professional accounting body.
The education section becomes less relevant the more professional work experience you gain.
Education, Courses and Certifications Example

Keep tertiary education separate from courses and certifications.
How to Format this Section
The education, courses and certifications section must be straightforward, accurate and easy to read.
Where you have a series of relevant qualifications, begin with the most recent and continue in descending order.
Separate formal education, short courses and certifications on your staff accountant resume.
List the institution, qualification and dates if applicable.
Staff Accountant Skills
Keywords in the skills section are crucial to getting past ATS and onto the recruiters' shortlist.
They'll be looking for both hard and soft skills from the accountant job description.
Hard skills are teachable skills we learn through education, courses and on the job. For example, Excel, general ledger reconciliations, forecasting, month-end close processes, etc.
Soft skills are just as essential. They're connected to personality traits we develop throughout our lives, known as interpersonal skills.
Staff Accountant Skills Example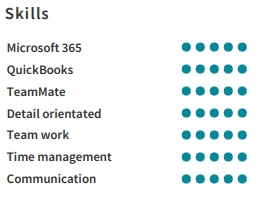 Mention the required skills only, no matter how many other suitable skills you have.
How to Format this Section
Irrespective of how many excellent accountant skills you have, stay only with those mentioned.
Keep them ATS-friendly by writing them verbatim from the post.
A rating for each skill can help readers assess your depth of experience at a glance.
References
Close your staff accountant resume with the references section.
One or two references are enough. You can also opt to leave them off your resume by saying "available on request" unless references are specified.
Generally, it's advisable to give referees a heads-up. Firstly, they know to expect a call, and secondly, you're assured they're still available.
References Example
The main requirement is accuracy.
How to Format this Section
List only the referee and company names, phone numbers and email addresses. Nothing else.
Related Resume Templates
Looking for something other than a staff accountant resume template? We have many different resume templates that might suit you better -
Final Points on Successful Staff Accounting Resume Samples
So, this is how you write a winning staff accountant resume.
Let's recap the essential points -
Write a master resume to keep as a living document
Target each job individually
Extract individual keywords from the job post
Carefully select info from your master staff accountant resume
Select the best resume template for the job
Stay with a one to two-page resume
Use professional but easy-to-read language
Use action verbs and positive words to make it engaging
Submit your resume in pdf format