Receptionist Resume Example, Template & How to Write Guide 2023
Almost every organization with more than a handful of employees needs a receptionist.
And let's do a bit of myth-busting before we get into how to write a stellar receptionist resume.
Receptionists don't just sit at the front desk meeting, greeting and directing customers and visitors.
They manage telecommunication systems, provide vital information and offer administrative support to various internal departments.
They're also frontline staff and frequently the first point of contact, making them a crucial brand ambassador. A receptionist can make or break a first time customer's experience.
We'll tell you how to get your professional experience and outstanding service skills into a superb front desk resume.
Receptionist Sample Resume
Breezing through current receptionist resume examples is the best way to understand recruitment trends.
That way, you're guaranteed to get a perfect resume out to prospective employers.
The winning resume formats of yesterday are today's bloopers. Following the guidelines of a top-shelf resume builder is undoubtedly the way to go.
Be sure to look through multiple resume templates before you choose. For example, search "front desk resume examples" and "sample resume for a receptionist" to cover all bases.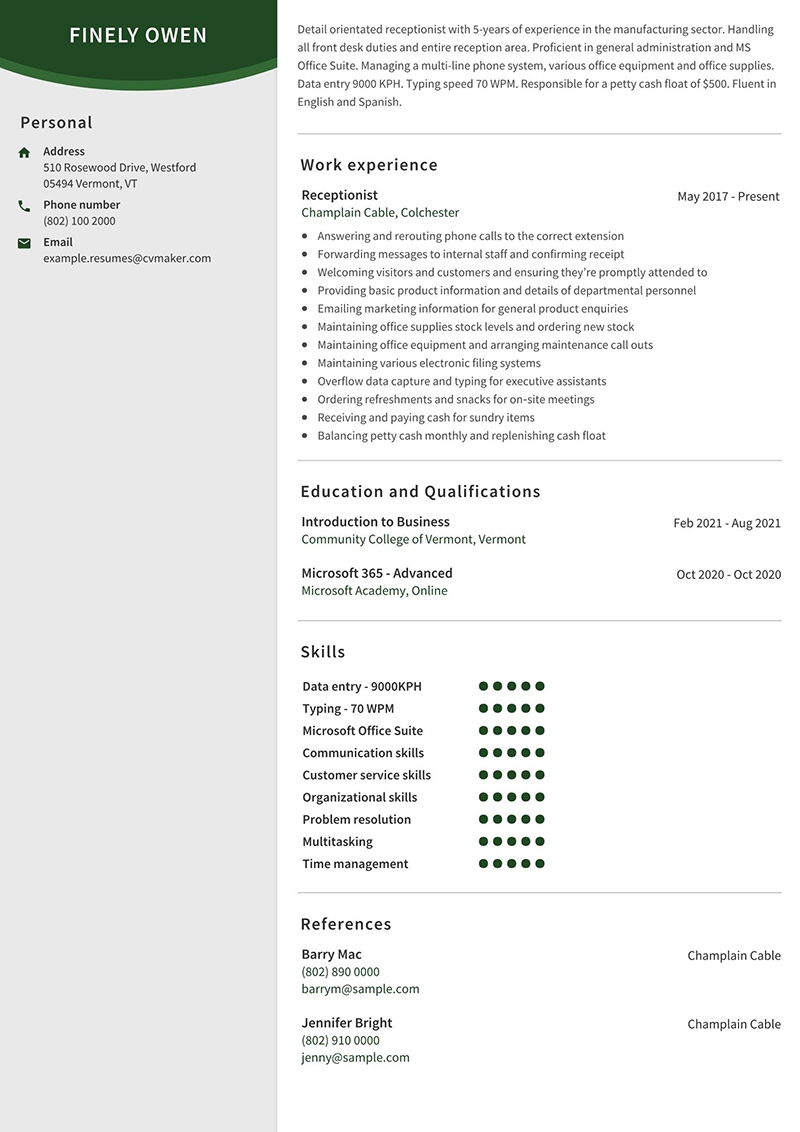 How to Write a Good Resume for Receptionists: 2023 Front Desk Resume Guide
Data predicts a 4% growth in receptionist jobs between 2020 and 2030. That's around 134K new receptionist jobs per annum in the US.
Aside from in commerce and industry, the most well-known receptionist roles are –
Medical receptionists in healthcare and medical office
Legal receptionists in law practice and attorneys
Hotel receptionists in the hospitality sector
It's unlikely that there'll be a shortage of applicants to fill new roles in the future. That's why your resume for front desk jobs must be impeccable.
Hiring managers are likely to be inundated with resumes for a receptionist vacancy. That doesn't mean you shouldn't apply, though.
You just need to stand out for all the right reasons. This means presenting the best receptionist resume that wows recruiters right off the bat.
It's really not as complicated as it sounds.
We'll give you professional resume writing tips. Plus, share how hiring managers and recruiters target applications using keywords.
Personal Information
Kick your resume for receptionist jobs off with your personal information.
Keep this section short and straightforward. It requires nothing more than your names, telephone and email contact details and address.
Pay close attention to the details, though, and recheck it once your receptionist resume is complete.
Transposing numbers or letters is a common mistake that could cost you the front desk job of your dreams.
Personal Information Example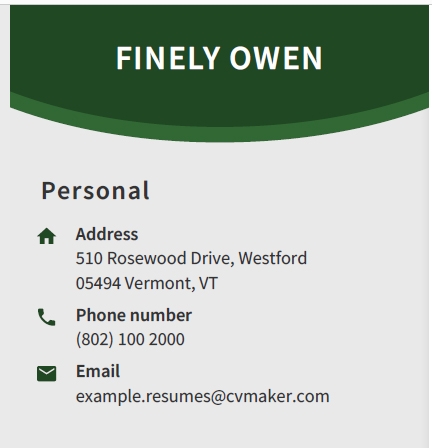 Be brief but accurate, as in this receptionist sample resume.
How to Format this Section
Record only facts without unnecessary details.
Use a reader-friendly business font with proper spacing.
Resume Objective
A resume objective or resume summary summarizes your years of experience, technical and soft skills, and achievements.
It's not to be confused with a cover letter.
A receptionist resume summary is short, compelling and informative. Written to grab the reader's intention, it sits at the top of your front desk receptionist resume.
On the other hand, a cover letter is on a separate page and allows plenty of space for further details.
Extract words from the job posting job title and job description to craft an eye-catching, convincing resume objective.
Here's a perfect example.
Resume Objective Example 

Note how this receptionist resume objective conveys so much in so few words.
How to Format this Section
All you have is between 50 to 80 words to motivate the reader to reach out and contact you.
Combining keywords with your work experience and achievements. Quantify the info with numbers and stats to reduce word count and make an excellent first impression.
Only include relative details from the job posting. You can expand on your merits during interviews.
Never misrepresent any facts, no matter how desperately you want the job. Untruths will reveal themselves, and you'll regret it later on.
Professional Work Experience
The experience section is where we get to tell you how hiring managers and recruiters target applications using keywords.
They do it with the help of an applicant tracking system or ATS that's a staple in hiring. ATS have parsing software that scans every application as it comes in.
When job postings are loaded via ATS, they're set up with specific keywords critical to the role.
Your receptionist resume will move to the applicant shortlist if parsers find all the keywords. If not, your application gets deleted.
See now how essential it is to use the job ads content when writing your receptionist job description resume?
Obviously, each organization will use their own wording. However, these are keywords to look out for in receptionist resume duties –
Administrative tasks
Communication skills
Copiers
Data entry
Excel
Filing systems
Front desk
Greet visitors
Interpersonal skills
Logbooks
Microsoft Office
MS Office
Multi-line phone system
Multitasking
Office equipment
Office supplies
Organizational skills
Phone calls
Reception area
Scheduling appointments
Time management
Travel arrangements
WPM
Professional Work Experience Example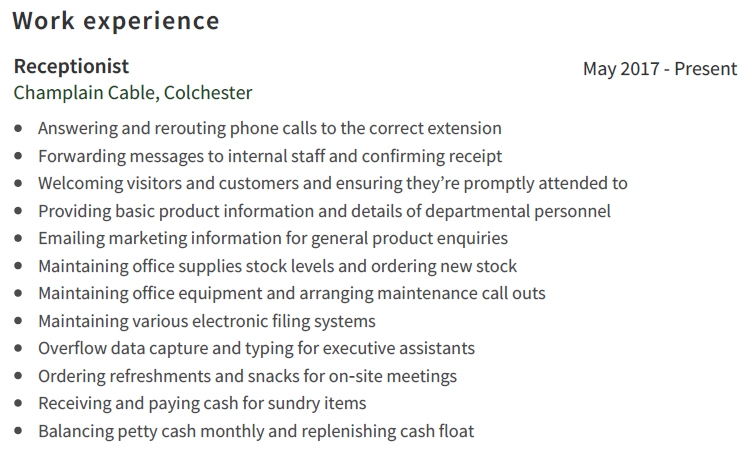 Check how critical keywords are mirrored in this receptionist job description resume.
How to Format this Section
Use business style fonts and bullet points in the experience section, allowing plenty of white space.
Keep the wording concise without omitting critical details. Also, list it in the same order as the job posting.
Education
Receptionists need only a high school diploma.
Adding some courses and certifications to your arsenal of skills enhances your resume skills and wins higher-paying receptionist jobs.
Education Example

From the receptionist's resume examples, you'll notice that the education section is short, listing only essential details.
How to Format this Section
You only need the facts in the education section.
Start with your most recent certification and list the training program and the accreditation. Carry on in descending order.
Skills
ATS parsers love the skills section of resumes.
Ensure your receptionist resume skills mirror the receptionist skills called for in job postings.
If you're an entry-level receptionist, you can use skills from past unrelated jobs or school projects.
For instance, if you volunteered at school or charity events, you likely have some receptionist skills.
Did you meet and greet guests and show them where to go? Or were you part of the back office team taking care of administrative tasks and making phone calls?
These are known as transferrable skills, including technical skills and soft skills.
Use them on your resume for receptionist with no experience.
Skills Example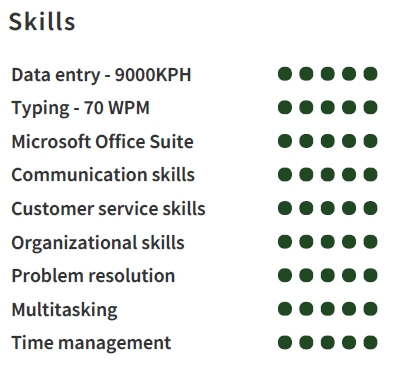 Use receptionist resume samples like this to get your receptionist skills section spot on.
How to Format this Section
Include skills from the job posting and add an honest rating.
References
End your resume for receptionist with the reference section.
This short, concise section only needs the referees' names and contact information.
Avoid providing too much detail for security reasons. Unless contactable references are a prerequisite, listing references as available on request is acceptable.
References Example

Short and accurate is what you'll find on all receptionist resume examples.
How to Format this Section
To the point fact only.
Other Front Office Resume Templates
Mmmm, not sure if a receptionist resume template is your thing.
Check out these other front office resume templates -
Final Points on Front Desk Receptionist Resumes
Let's recap on the resume writing essentials –
Use the correct resume format
Extract keywords from each job post
Take time selecting resume info
Use clear and concise wording
Include numbers and statistics
Use action verbs and positive language
Stick to a one-page resume
Send your resume in pdf format