Paralegal Resume Example, Template & How to Write Tips 2023
While lawyers get most of the accolades – the legal team comprises many specialists who work behind the curtain. If one is overlooked and underappreciated, it is the paralegal. This job is sometimes called a legal assistant. But regardless of the position you prefer, becoming a paralegal requires the right skills, experience, and a well-written paralegal resume.
Paralegals serve as the backbone of any law firm. They draft legal documents and correspondence, conduct excessive research, and assist in many legal proceedings. Having experience in these areas is vital to obtaining an interview. These are also primary skills that must be listed on your resume.
While writing a resume is a simple process, it takes time, planning, and attention to detail to craft one that will stand out among the pile of other qualified candidates. So, how do you write a stunning resume? Are there certain action verbs that should be included for paralegal resumes that stand out? Do you need an associate degree in paralegal studies to be hired?
These are a few of the questions we'll explore below. Our team has also drafted paralegal resume examples that you can review for practical tips.
Let's get started.
Paralegal Resume Sample
According to the job description of most paralegal positions, a candidate needs to have a strong understanding of US civil or criminal justice systems. They should also have a general comprehension of intellectual property, personal injury, real estate, pleadings, insurance or medical malpractice, case strategy, civil rights, case management, taking depositions, and other legal statutes.
Depending on which legal firm they represent, their resume should be written specifically to the legal practice and specialty of the firm. It's also possible that they'll need to be a certified paralegal, by taking a course program or obtaining an associate degree. Many law firm recruiters will select experienced paralegal candidates with specialties that align with the firm - such as family law or legal knowledge applicable to the law office.
A powerfully written resume for paralegals should provide a roadmap for the hiring firm or HR manager to follow that tells a story as to why you are the best candidate for the job. The paralegal resume template below is an excellent example of this strategy.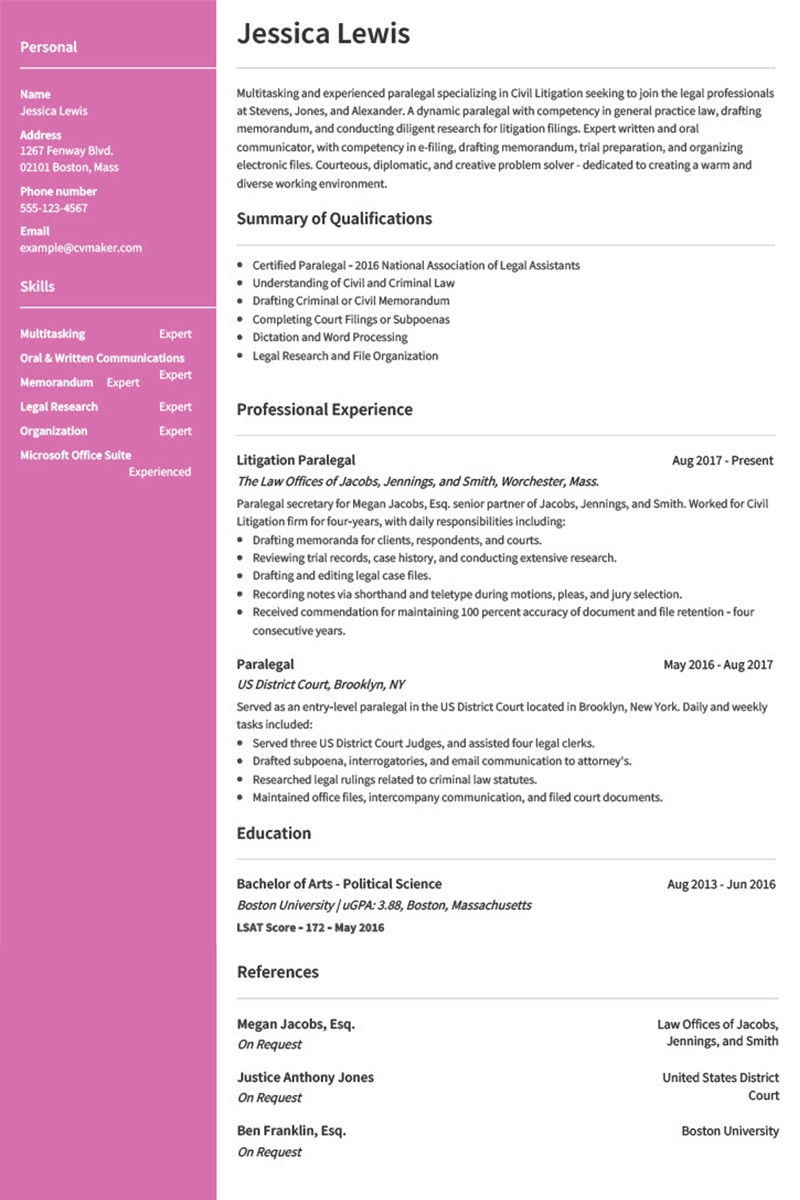 Many paralegal resumes examples are written generic – meaning the candidate can submit it to every position or firm they are applying to. However, we take a more personal approach with our paralegal resume samples. When you review Jessica's paralegal resume template, it's clear to see how she embraces the personalization approach to resume writing.

Her paralegal resume objective statement targets the exact law firm in Boston she seeks to join. Further, this firm specializes in civil litigation, and she highlights her work experience in this specialty. When you get granular, you'll notice that it's written in a conversational – yet professional tone. This helps showcase her interpersonal skills, which are critical for all team members of a law firm.
The entire resume format tells her story from start to finish is filled with action verbs and critical paralegal skills for resume writing that follows best practices. More than that – it is also technically accurate, flows from start to finish, and is grammatically correct.
How to Write a Great Resume for Paralegals in 2023: Full Guide to Paralegal Resumes that Stand Out
Exceptional research ability, vital customer service, and practical communication skills are some of the attributes that law firms seek in paralegals. It can be tricky for those writing entry–level paralegal resumes to determine which qualities to showcase in their resume.
The best way to attack this problem is to review a paralegal resumes example – like the one published above. You can see that our candidate Jessica decided to highlight her experience with legal research, drafting memorandum, e-filing, trial preparation, and exceptional communication skills. These are considered action verbs – or those keywords that will stand out on the resume.
Any resume for a paralegal must be easy to read, scannable, yet flow from start to finish. There are some required sections – although it's important to review each job posting and customize your resume to fit the firms' requirements. Here are our recommendations for primary sections to include in paralegal resumes and cover letters.
Personal Contact Information: The firm must contact you for an interview first to be hired. This section will include your accurate contact details to make it easy for them.
Professional Summary: This is your elevator pitch or opportunity to show your prospective employer why you're ideal for the job.
Summary of Qualifications: Depending on the firm you apply to, a paralegal position may have certification requirements. This section will permit you to add the certifications or licensing information – along with any industry-specific qualifications.
Work History: This is the section where you'll add practical work experience. For experienced candidates, try to insert at least two previous paralegal positions. Those applying for their first paralegal job should add places in the experience section where they've showcased the skills required for this position.
Education: The education section is the easiest one to fill out. List your highest level of completed education – documenting any degrees you've earned.
Skills: You should list five to seven skills you possess that help you become a successful paralegal and team player. Experience with an electronic filing system, excel, Microsoft or Apple, and knowing how to use LexisNexis may be helpful.
References: The final section is the reference section. You'll select three individuals who can vouch for your experience and character.
Many candidates worry about how to organize their paralegal skills for resume writing. One way to manage this project is to create a master resume – or a working document that permits you to write down every detail in all sections, fine-tune the content, and make appropriate edits. Once you list all your primary areas and insert the relevant content, you can optimize and edit the content with professional online platforms like Grammarly.com.
Now that we've established an attack plan, let's break down each section below and how to best format your paralegal resume template.
Section #1 – List Your Contact Information
Paralegals are known for being the foundation of any law firm. They are the individuals who complete most of the correspondence, research, and complete legal filings. That said, attention to detail is a vital component for any prospective paralegal. The best way to articulate this is to ensure your personal information is 100 percent accurate.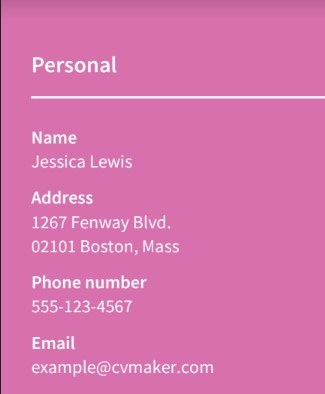 The contact section should be simple – documenting your full legal name, mobile phone number, mailing address, and email. While some job postings require you to verify social media profiles like Facebook or Linkedin, it's not recommended to provide this info on your resume (if not mandated).
Bonus tip: Make sure your mobile device has email connectivity. This will permit you to reply to interview requests quickly, which can positively impact the prospective employer.
Section #2 – Professional Summary
A well-written paralegal resume objective or professional summary section can make or break your application. While paralegals do not participate in courtroom activities, they can still build a case for their employment application. The professional summary is where you start this process of outlining your paralegal experience that will matter.

As you can see, this section is a four to five-sentence, 250-word paragraph, that should be explicitly written to the firm you're applying to. You can see that Jessica accomplishes this by documenting that she is looking to join the team at the Franklin & Jones law firm in her opening sentence.
The necessary items to mention in this section include your relevant skills, level of expertise, and top hard and soft skills. It's essential to note your ability to maintain discretion of sensitive information, as paralegals will have access to client data.
How to Format this Section
The perfect resume will start with a potent, powerful, yet pithy summary. Again, write it as a paragraph – around 200 words in a professional and engaging tone. This is your elevator pitch, so don't be afraid to showcase your personality through the content. But keep it professional.
Section #3 – Summary of Qualifications
The best jobs are awarded to the candidates with the most applicable qualifications. A paralegal is no different. When you can showcase the capabilities that permit you to execute your daily activities and tasks correctly, the hiring manager feels more confident about an interview. That is the intent of this section.

The summary of qualifications section is a list of specific details required for serving in this capacity. For an attorney, for example, this would include listing your State Bar exam records. For a legal secretary or paralegal, the qualifications may consist of their certification. In some paralegal positions, a certificate is required. If this applies to your job search, make sure to document that in this section.
Some other qualifications that apply to a paralegal resume may include:
Drafting Criminal or Civil Memorandum
Completing Court Filings or Subpoenas
Dictation and Word Processing
Legal Research and File Organization
How to Format this Section
It's best to select your top three qualifications – only if it's required to apply for your paralegal position. List them in bullet point format. Keep this section simple – and feel free to omit if it does not apply to your situation.
Section #4 – Employment History
The employment history section of a professional resume can separate candidates from each other, primarily if written correctly. Your employment history must be relevant to the daily responsibilities of a paralegal. If you have served as a paralegal in previous jobs, you'll want to list those employments – in reverse chronological order.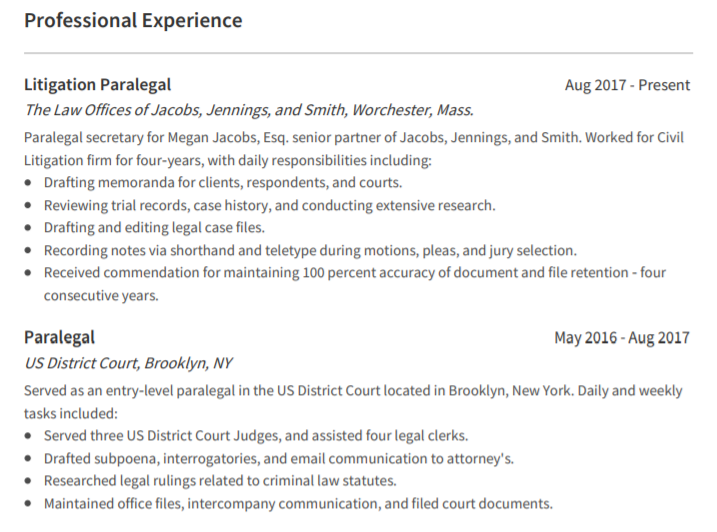 It's also critical to list a few of your career highlights within this section. For example, you can see that Jessica (our candidate) has recorded two previous paralegal positions. In the first, she served as a lead paralegal for the firm, which came with it some supervisory responsibilities. Her other job listed was an entry-level paralegal position.
How to Format this Section
Resume best practices suggest listing all employment history in a reverse-chronological format. This means to start with your most recent position and continue throughout. It would help if you recorded the employer's name, location, dates of employment, and a few key accomplishments (in bullet points).
Section #5 – Education
Educational requirements for paralegal positions will vary based on the law firm. Most will require the candidate to possess an associate degree or paralegal certificate – which is often equivalent to the degree. The critical item to remember in this section is to pay close attention to the job application.
As you can see, Jessica has earned a Bachelor of Arts in Political Science. If the paralegal job requires a bachelor's degree, you'll want to list the school attended, the date of graduation, and the degree earned. If you are applying to a paralegal position and possess a postgraduate degree, it's a great idea to list the secondary degree above your required education.
How to Format This Section
Again – the education section is more formality for a paralegal position. If a high school diploma is required, document this in the education section. As we stated above, you'll want to keep the information simple in this section – with the name of the school, its location, dates, and the degree earned.
Section #6 – References
The selected references for your application and resume can help you eclipse some candidates. It's always best to choose three references, two who can speak to your professional experience as a paralegal and one who can testify to your character. The interpersonal skills of a paralegal are crucial, as they are often tasked to assume multiple jobs simultaneously.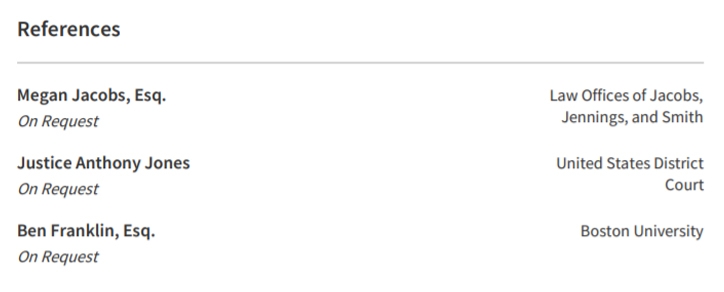 A solid reference has a strong reputation in the industry in which they work. For example, you can see that Jessica has selected Megan Jacobs, a senior partner of the law firm she previously worked. Not only does this showcase that she left her previous job with a good reputation, but that her former employer speaks well of her.
How to Format This Section
Keep this section simple – and private. You'll list the first and last name of your reference, their place of employment, and the phrase "available upon request." This will keep their contact information private unless requested by the law firm you are applying to join.
Section #7 – Skills
The paralegal skills for resume section are essentially a sidebar or final area. It's important to list a few of the hard and soft skills you possess that will help you with your paralegal tasks. For example, in the sample paralegal resume posted above, you can see that Jessica has listed her ability to multitask, strength in communications, legal research, and her knowledge of legal writing.

How to Format This Section
When using a resume builder or template, formatting the skills section is streamlined and simplified. It's best to list them in bullet point format, starting with the skills you are strongest in. For a paralegal resume, pick the top 6 skills you feel apply to your future job. When in doubt, check the job posting – as they'll likely tell you what's essential to the law firm.
Other Legal and Paralegal Resume Templates 
The best paralegal candidates thrive at completing research. As such, it's a good idea to review as many practical examples as possible of professionally written resumes if you intend on accelerating past candidates. We've compiled multiple legal industry resumes written by our team of professional writers for you to review as inspiration.
Final Points on Resumes for Paralegals
The key to writing any successful resume is to customize it to your prospective employer. If you are applying for a paralegal position at a firm that specializes in criminal defense, it's a good idea to highlight your experience in this industry. The same applies to any legal specialty.
With that said, this article provides you with a clear roadmap that makes it easier to write an engaging paralegal resume.
For a quick recap, here are some specific tips to remember.
Make sure the resume reads and flows easily.
Always write your resume on a plain white background with black font.
Edit the document SEVERAL TIMES – through Grammarly.com and visual inspection.
Ensure its well-spaced, organized, and professional.
Finally, read it out loud a few times before you're ready to paste the content into a paralegal resume template.
If you're going to succeed in any legal profession, attention to detail and communication are recipes for success. By following the tips listed above in each section and taking time to review your resume, you'll have a competitive edge over candidates who copy and paste. Remember to read the resume aloud, and don't be afraid to have peers review your resume before submitting the application and cover letter.