Operations Manager Resume Sample & Writing Guide 2023
A successful business requires planning, capital, and a team to execute the vision of the ownership team. At the top of any company is an operations manager responsible for taking ownership and executive direction and implementing the plan. Whether you're experienced or want to climb the executive ladder, writing an engaging operations manager resume will help you land that perfect position.
Most office or operations managers are hired within an organization – meaning the company will have a training program that allows passionate workers to elevate through the chain of command. However, most US states require a business to openly post leadership positions to all candidates. They will require a resume for the director of operations, an application, and a cover letter to be submitted.
While most future managers are quite articulate, they can struggle with the organization associated with writing a director of operations resume. This article is right up your alley if you fit this description or want to polish your business operations manager resume writing. In the information below, we'll provide you with a sample of an operations manager resume sample, additional links to similar operations manager resume examples, and a proven plan that helps you organize and layout each section.
Let's get started.
Professional Operations Manager Resume Sample
One of the best attributes an operations manager can possess is organization. The good thing – is that we've incorporated the same mentality into the operations manager resume example we've posted below. While we want you to focus on the operations manager resume word format, keywords, and how the entire document flows from start to finish, it's also essential to learn how we came up with the finished product.
The director of operations resume samples in this article are all written by our team of professional writers. They all use a similar organizational program – or what we call a master resume to outline, organize, write, edit, optimize, and format each section of the resume. These are all key items we'll show you in the rest of the article.
However, before we get too in-depth, take some time to review the retail operations manager resume posted below. It's for our mythical candidate Jane Jackson, who is applying to become the head manager for a local retail store in San Diego, California.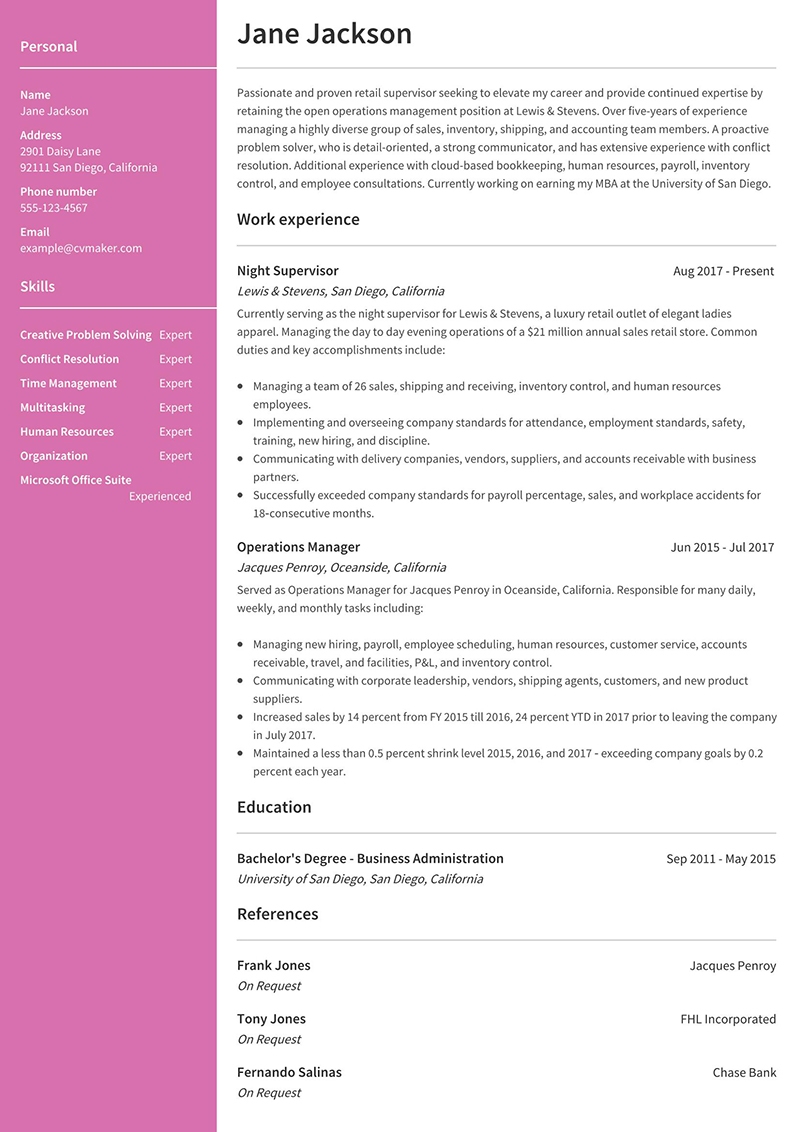 When multiple candidates are applying for the same leadership position, you'll need to find a creative way to showcase the skills that prove you're the best candidate. The operations manager skills resume posted above is an excellent example of articulating skills and organization into an easy-to-read document.
Our candidate Jane hopes to become promoted at Lewis & Stevens – a home décor retail store where she currently serves as a night supervisor. In the first significant section of the resume (the professional summary), you can see her attention to detail on full display – as she's written this section specifically to the company. This type of attention to detail is an easy way to make an instant impression.
As you progress into the heart of the resume, you'll notice that she has listed her current position in the work experience section – showcasing her years of experience and some of the key accomplishments during her leadership term. She's also provided a previous operations manager position and highlighted the key success stories in that position.
Finally, you'll notice that she's listed her highest level of education, some great references, and the skills that make her a great leader. These are all sections listed on a job description posting - so always pay special attention to the application before writing the resume.
How to Write a Good Manager/Director of Operations Resume in 2023: Operation Manager Resume Tips that Work
So – let's get started with fleshing out this project. The first item on our operations management resume writing task is to create an outline of steps or key sections we need to include. To accomplish this, we will use a Word Document to create a master resume. This is essentially a working document that you can use to create the significant sections, add content to each, optimize and edit each sentence, and develop a flow format.
When you've completed each section, you can then upload the saved document to a platform called Grammarly.com – where you'll be able to edit for grammatical perfection quickly. Here are a few recommended sections that we think should be included in any operations manager resume.
Personal Contact Information: Like most project management outlines – simplicity is your best friend with the contact section. Just write your full legal name, complete mailing address, email address, and mobile phone number.
Professional Summary: The most challenging section for many job candidates to write is the professional summary – or operations manager resume objective. It's your best chance to showcase your communication and organizational skills – so take your time with this section.
Work History: All managers need to showcase leadership, organization, multitasking, and problem-solving skills. Your relevant work history can assist.
Education: For a management position, listing your highest level of completed education is satisfactory on a resume.
Skills: For your skills section, it's best to select common ones with the best managers. Some of the skills to consider with an operations manager include multitasking, human resources, leadership, organization, conflict resolution, and analytic thinking.
References: Like many of the sections above, the references are essentially intended to provide support to your application. Using references who can provide practical examples can help you hurdle other candidates.
After you set up the layout by writing each of the following primary sections on your master resume, it's time to fill each with relevant content. Here are some helpful tips and hints to help you create the correct language to convince readers of your qualifications.
Section #1 – Personal Contact Information
If there is a message we'll drive home in this article – it's to maintain consistency throughout the application process. Most hiring managers and recruiting agencies are highly keen on applicants who tell the same story through their application, cover letter and resume. They question candidates who list different information on multiple documents – including simple items such as the candidate's contact information.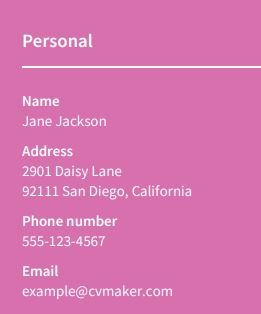 We strongly recommend adding your accurate contact information to the resume. But more than that – make sure everything you list is precisely what you've noted on your application and the cover letter. This would include your full professional name, the complete mailing address, including city, state, zip code, email address (preferably one specifically for personal/professional communication), and mobile phone number.
Bonus Tip: It's always a good idea to use a mobile phone that has connectivity to your email address listed on your application and resume. This is because many recruiters and larger companies will use an automated software solution to send SMS text notifications to alert you to potential interviews. The quicker you can apply – the more likely they will select you for that vital interview.
How to Format this Section
The best way to simplify the formatting of any resume is using a professional template. No matter what type of operations management resumes are being created, a template will ensure that your information is clean, organized, and professional. It's best to have personal information listed in the center of the page or upper lefthand corner.
Section #2 – Professional Summary 
The best managers are those who are extremely articulate. They have a remarkable ability to convince employees and peers that their course of action is the key to success. If there is a section of a resume that is your chance to showcase communication skills, it's the professional summary. The operations manager resume objective section essentially explains why you're the most qualified candidate to assume the position.

When you review our sample resume summary above, it's clear that our candidate Jane has clearly explained why she would be a special operations manager for the retail store Lewis & Stevens. She explains that she has grown with the company – starting as a retail clerk and eventually becoming a night supervisor. She further outlines the key hard and soft skills that make her an exceptional candidate for this position.
This section of the resume is also where you want to insert some action verbs – such as being a problem solver, proactive, detail-oriented, and someone with exceptional conflict resolution skills. Some additional tasks of an operations manager may include bookkeeping and financial reports, human resources, and creating safety programs.
How to Format this Section
We strongly recommend writing no more than 150 words in your professional summary. This is basically an overview of your candidacy. Make sure to write it using a professional yet relaxed or conversational tone. Jane's sample section posted above is an excellent example of this writing tone. It's also a great idea to customize the opening section of the resume to the company you are hoping to join.
Section #3 – Work History
Working experience is vital for any promotional or new job opportunity. Showing that you have practical experience in similar industries or work environments can help you jump over less qualified candidates for operations managers. However, this should cause others to seek promotion by applying for these positions.
Many employers prefer to hire an in-house employee who understands their procedures, policies, people, and business philosophy. Whether you're an experienced operations manager or seeking your first position, the work history should be handled the same.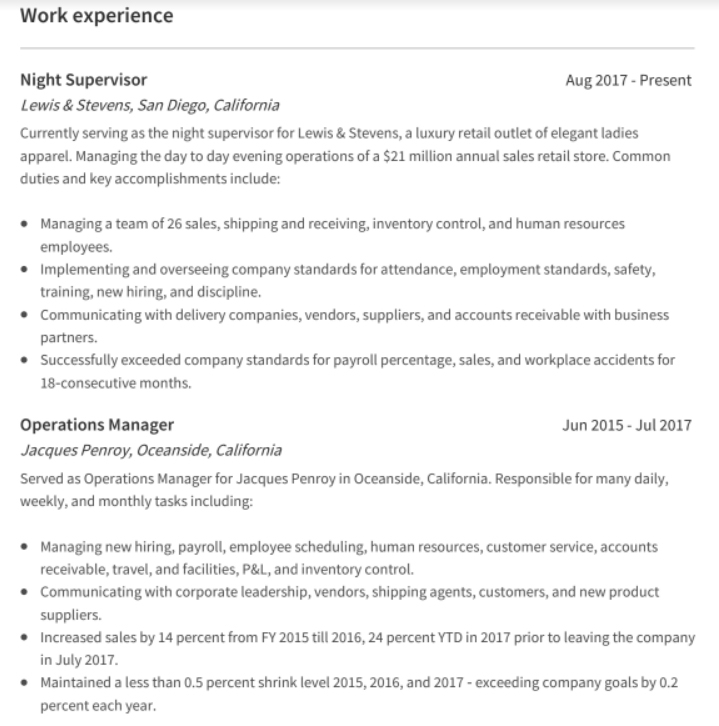 Looking at our candidate Jane's submission, you can see that she has selected her previous two positions. The first is her current employment with the retail location where she is applying for the operations manager job. She's listed her employer's name, location, employment dates, and a few critical bullets of accomplishments.
Her second position was a former employer, where she served as an operations manager. She follows a similar format but provides operational management experiences in the bullet points.
How to Format this Section
Formatting is straightforward with the work history section. As noted in the sample posted above, you'll list the relevant information about the company – such as name, location, dates of employment, and position served. Pick your top four or five for the bullet points and place them in order of relevance to the job you're hoping to retain.
Section #4 – Education
It's not too familiar for an operations management position to require advanced education – beyond a bachelor's degree. However, this is another example of showcasing your resume's attention to detail and consistency and all application documents. While it's important to list the required education specific to the job posting, it's more critical to list your highest completed level of education.
For example – you can see in Jane's resume sample that she has listed her bachelor's degree in business management or business administration from the University of San Diego. However, in her professional summary, she noted that she is currently working on her master's degree.
While this is helpful to the employer, she hasn't finished – as such, it should not be listed in the education section. If this situation applies to you – it's best to notate that in a cover letter or professional summary.
How to Format This Section
Another example of simplicity is showcased in the resume format of the education section. It's best to list the basics – such as the school's name, location, the dates of attendance, and any degree earned. If your profession requires certifications you'll list that in a separate section below education - but format it the same.
Section #5– References
The references you select can make a massive difference between getting the job and being passed along. A reference is an individual who can speak to your character, creative initiatives, dedication to excellence, skills, and abilities as a leader who will accelerate as an operations manager. There are two types of references you can select – professional and personal.
The best reference is someone you have worked with in the past, who can testify to your professional experience, ability to lead others, accomplish assigned tasks, and be willing to be accountable for actions. In Jane's sample resume, you'll notice that she has selected two professional references. Since she is applying for a promotion at her current employer, adding her direct supervisor did not make sense. So – she chose her former employer and one from a previous job not listed on her resume.
The final reference selected is a personal one. In Jane's situation, she chose a family friend who owns a retail store in her hometown of San Diego, California. This provides additional credibility to her character, work ethic, and interpersonal skills as a leader.
The critical point to remember about choosing references for any management position is to select people willing to support your candidacy if your future employer contacts them.
How to Format This Section
Your references private contact information should remain that way – unless directed by a prospective employer. Best practices for resume writing suggest adding the phrase 'Available upon request' regarding the personal contact information for a reference. Make sure to update their information with your personal files – so the employer can quickly contact them if needed.
Section #6 – Skills
When you assume an operations manager position, you'll be tasked to oversee multiple departments, including manufacturing (if applicable), sales, human resources, shipping and receiving, communications, marketing, and more.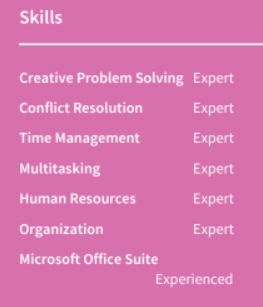 To manage each of these departments requires a specific set of resume skills, including multitasking, the ability to handle crisis situations, being a great problem solver, completing audits, maintaining smart decision making, quality assurance, and having an uncanny ability to organize.
These are some of the hard skills that should be listed on your resume. You'll notice that Jane has listed her skills on the left side of the resume – directly under her contact information.
How to Format This Section
Utilizing a professional operations manager resume template formatting skills and other sections is a breeze. That's what Jane has done in her sample resume posted above. However, if you're going to freehand write the resume without using a template or resume builder for operations managers, we recommend listing them at the bottom of your resume. Pick your top five to seven skills.
Related Resume Templates
We believe that the best way to review any professional document and learn how to write one yourself is by learning from others. We've written hundreds of professional resumes in the management profession and have assembled several related resume templates for operations manager candidates to review.
You're likely going to encounter many hurdles during your job search. Trying to write the perfect resume without reviewing other practical examples doesn't have to be one of those struggles. Take as much time as needed to review the operations manager summary statement examples posted below.
Final Points on Writing a Resume for Director of Operations
Writing a resume will take time – there simply is no denying that fact. However, when you're able to start with a master resume, keep the operations manager resume word format simple, and choose the right action verbs to enhance the finished product, you'll save time without compromising quality.
Here are a few key bullet points to consider when you're planning to write an operations manager resume.
Always make sure that your operations manager maintains a consistent message from start to finish. Take time and fine-tune the content to ensure it reads easy.
Always write your resume on a plain white background with black font.
Edit the document SEVERAL TIMES. Feel free to share your resume with some peers to have them provide some professional guidance.
Ensure its well-spaced, organized, and professional.
Finally, read it aloud a few times before you're ready to paste the content into a template if you choose to use one.
While the way you structure and write a resume can help – the content and your ability to sell yourself are critical. Ensure that the information listed on your resume is listed on your application and cover letter, and continually review your operations manager resume multiple times before saving it as a PDF.