Operations Analyst Resume Sample & Writing Guide 2023
A common problem that multiple industries have in 2023 is finding creative ways of controlling overhead expenses. Companies' operations can vary based on their scope of business, scale, and consumer base. Those problem-solving and critical thinking people tasked to discover areas of waste are operations analysts. If this is a position you've trained to retain, you'll have to write a convincing and articulate operations analyst resume.
An operations analyst is sometimes called an operations researcher or project management analyst. Their primary objective is to review financials, metrics, initiatives, procedures, profitability, and controls that impact the daily operations, discover areas of opportunity for process improvement, to revise or optimize and make recommendations to executive leadership.
These hard-working, multitasking individuals must prepare a well-written, articulate operations specialist resume with relevant work experience to captivate prospective hiring agencies or managers.
All new job seekers struggle with learning how to properly draft a business process analyst resume that will garner attention over other candidates. Are there specific steps to follow to reduce the stress associated with sales operation analyst resume writing? What keywords should a job seeker include in their sales operation analyst resume? Or – does it make sense to use a business operations analyst resume builder or template?
The good news – we have answers to these frequently asked questions about creating a resume for operations analyst positions. In the article below, we'll provide you with some critical tips to help you organize, write, edit, and optimize any data operations analyst resume – regardless of the business requirements.
So, let's get started on your sales operations analyst resume project.
Professional Operations Analyst Resume Sample
As an operations analyst, you'll be tasked to develop creative ways of reducing waste, allocating resources wisely, and communicating those changes to management. It's a job that requires significant attention to detail and a clear ability to communicate. Any candidate for an operations analyst will get a great chance to prove they possess these skills through their application, cover letter, and resume.
Every application should be submitted with a cover letter and resume consistently through all three documents. This means making sure that the contact information, work history, references, and education all add up and is similar. The resume is essentially an extension to your application, where you can flesh out some details – specifically with your skills and work history accomplishments.
We've created this sample operations analyst job description resume to give you a practical example of what we're talking about. Take some time to review the complete document posted below, paying close attention to the language used, the format, and the tone of the content.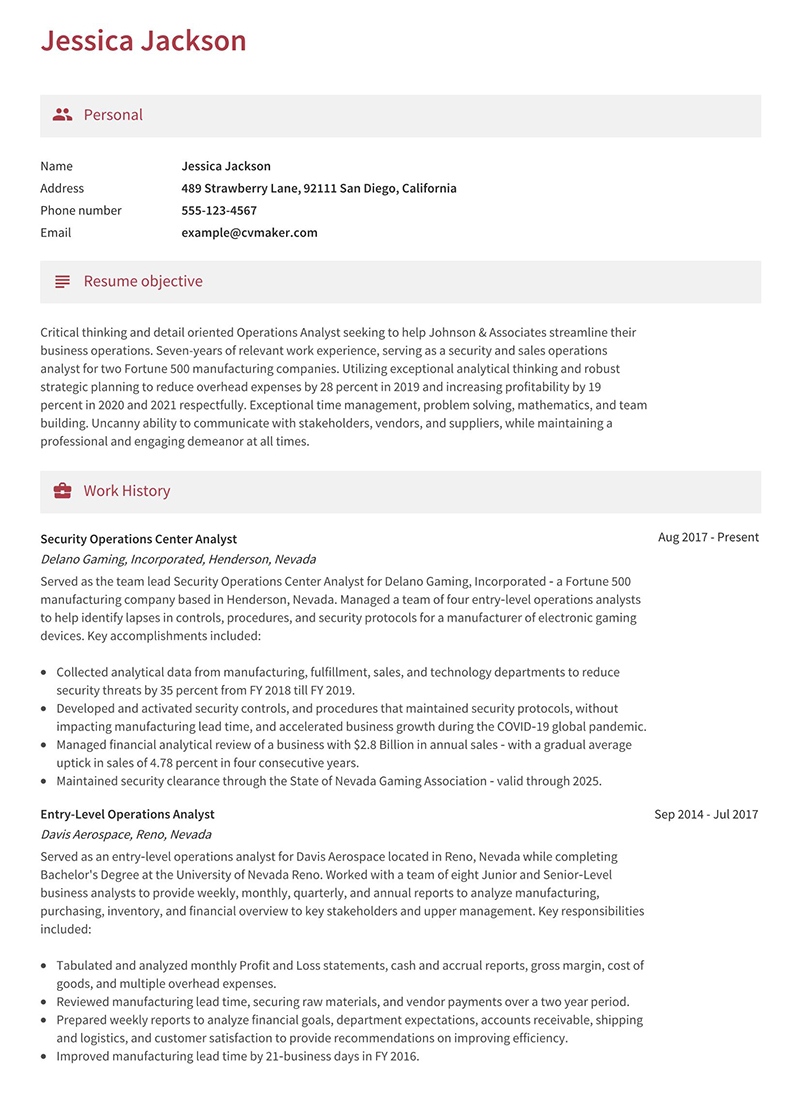 Writing a good resume begins with solid organization. That's how our team of professional resume writers begin every project – including for our mythical candidate Jessica's analyst resume. This resume is clean, organized, and flows from start to finish.
It begins with an easy-to-review contact section, an eloquent and engaging professional summary, relevant work history with supporting bullet points of key accomplishments, and other important sections.
As you continue into each section, all entries are easy to review, listed in reverse chronological order, and highlight their unique accomplishments. Now that you have a practical example to reference throughout this article let's provide you with the roadmap that will give you the confidence to write your own experienced or entry level operations analyst resume.
How to Write a Good Resume for Operations Analyst in 2023: Operations Specialist Resume Tips
Let's get right to the point. As we noted above, having strong organizational skills will help you accomplish any task – such as writing a resume. However, it's not imperative to overthink this process. In fact, by simplifying your resume writing outline, you'll have the flexibility to create primary sections, insert supporting data, fine-tune and optimize the content, and format for a seamless reader experience.
We call this document a master resume – as it's going to be the sole source of information you'll need to include in the resume. For starters, you'll need to create a few major sections. Here is what we recommend for an operations analyst position.
Personal Contact Information: The first item to include on any resume is your correct contact information. The information must match what you've added to your application and noted on the cover letter.
Professional Summary – The resume overview or professional summary is your opening statement and first opportunity to separate yourself from other candidates.
Work History: You'll want to add (2) examples of relevant work history where you've served as an operations analyst in a previous position – or showcased the skills and attributes needed to be a successful analyst. We'll explore more in the detailed section below.
Education: While a resume helps you expand on the information listed on your application, the education you've completed should be straightforward for an operational analyst position. Certifications are typically not required.
References – It's best to select three contacts – two professional and one personal.
Skills: The final section of your resume is the skills section. Using a professional resume builder will help you format the skills to appear cleanly on the resume.
Now that you've listed the primary section above on your master resume, bold type them – so you know they are significant areas. You can then continue to each section below to learn how to add the right content.
Section #1 – List Your Contact Information
Here is a quick question to consider. When you apply for a job, what attribute would you think is the most important factor that a hiring manager or recruiting firm seeks? Some would instantly answer that the candidate's job experience would easily be the number one factor. However, the truth might surprise you – its consistency and professionalism are showcased through the resume.
You can eclipse many candidates for the same position by simply paying close attention to the content you add to your resume. This will start with the personal contact information listed on the resume. It's always great to kick off every project with a 'win.' So, here is your first chance to kick off your resume writing project right.

For your personal contact information, list your full legal name, mailing address, email, and mobile phone number. The important item to remember here – is to match 100% what you listed on your application and, if applicable – the cover letter.
For example – if you listed a PO Box as your mailing address on a job application (which we don't recommend unless you're unable to receive mail at your physical location) but listed a physical address on a resume – this is an example of inconsistency – and can be a red flag to hiring managers.
How to Format this Section
The contact information section is simple – and should be easy for the resume reader to review. Unless you've been asked to supply it – don't add any social media contacts or pages on your resume. The formatting for contact information is to list it at the top center of the resume – or upper left-hand corner.
Section #2 – Professional Summary 
Your resume writing project will get technical and creative in this section. The professional summary is a 150-to-200-word paragraph that introduces your candidacy, qualifications, and interpersonal skills to make you the ideal candidate for the job. It also provides you with an excellent opportunity to sprinkle some keywords or action verbs that automated software programs use to separate qualified candidates from those who don't have the right skills.

Your professional summary needs to start with your desire to join the company you've applied to. This is another example of attention to detail that today's hiring managers seek in job candidates. Our operations analyst candidate Jessica has done exactly this in the first sentence of her resume summary.
Within the body of the professional summary, you'll want to introduce years of experience, key accomplishments, and details about your work ethic that separates you from competitors. Some of the key action verbs or professional experience soft skills relevant to this section would include strong communication skills, reporting to stakeholders, mathematics, strategic planning, problem-solving, working with development team members, optimization software, analytical thinking, and confidentiality of sensitive information.
How to Format this Section
Your professional summary resume format is a paragraph of powerful statements introducing yourself to prospective employers. Keep it below 200 words – in fact, 100 to 150 is about right. It would help if you also wrote this – and all content in an operations analyst resume with a professional – yet conversational tone.
Section #3 – Relevant Work History
Work history is important when you have the right type of experience. Every great analyst will possess skills – many of which are taught in college or learned in the work environment. The intent of the work history section of a resume is to explain how the company you listed on the application has helped you develop the necessary skills to review operations, overhead, procedures, risk management, forecasting, and other aspects of a business – and recommend corrective actions to improve the business.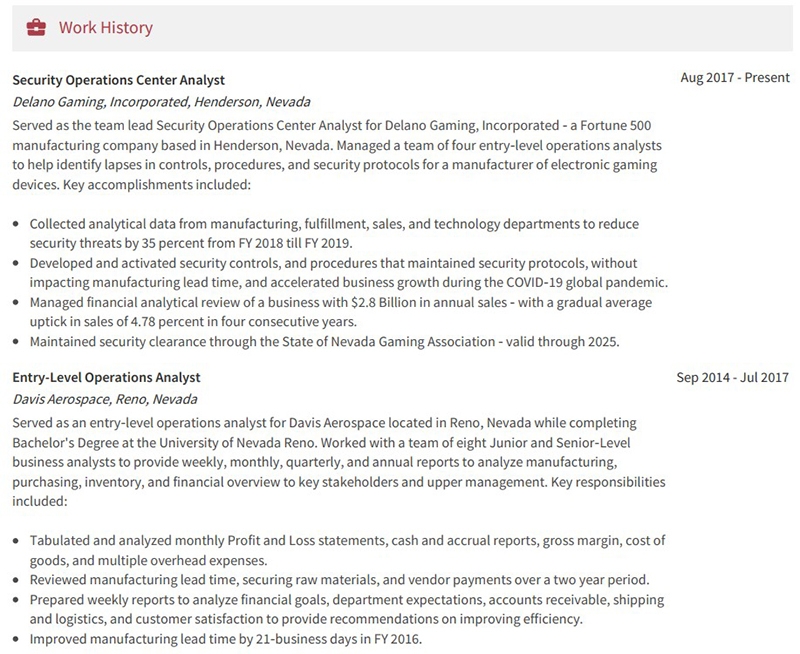 Case in point – let's take a review of Jessica's sample resume. She has listed two previous analyst positions. The first is her current position, serving as security operations center analyst. In the body of that first listing, she has provided four bullet points showcasing her key achievements – which provide validity and support to her analytical experience.
The second position listed is her first, a perfect example for those writing a sales operation analyst resume. While this job was an entry-level position, she received the critical on-the-job training you don't receive in a college classroom. Likewise, she was able to fine-tune her analytical skills, business analysis abilities, decision making, data analysis, and cross-functional abilities that helps her make solid choices.
How to Format this Section
Jessica's financial operations analyst resume sample gives you a visual of how this section should be written and formatted. Resume writing best practices suggest listing all previous employment in reverse chronological order – or from most recent to former positions. Always list the company's name, the location, and the dates. You should also document a few key bullet points of tasks, duties, or accomplishments.
Section #4 – Education
It's the responsibility of every job applicant to verify the requirements of positions they seek to retain. One of the sections of a job description that is often overlooked is educational requirements. For an operations analyst position, most companies require a minimum of a bachelor's degree in analytics.
The job posting will tell you which level of education is required. However, it's best practice to document your highest level of school completed. This makes it easier for you and gives the hiring manager or recruiter a good idea of your experience vs. education.

Suppose you review Jessica's operations analyst resume example work history section. In that case, you'll notice that she had listed an entry-level analyst position in her second listing. The years of employment aligned with the same year of her graduation. This is important as it shows that she gained valuable hands-on experience before earning her degree. If she held a master's degree - that would be the one documented on the resume.
How to Format this Section
The education section of every resume should be kept simple. List the college's name, location, the degree earned, and the date of graduation. Using a resume builder will help you format this section – so it appears clean, neat, and organized.
Section #5 – References
Any job reference is to provide an added testimonial to the information documented on your application, resume, and cover letter. They help to provide credibility and support to your candidacy – specifically, your ability to analyze multiple data points, embrace new systems like Oracle that helps you analyze data, creatively solve problems, and provide clear and open-minded recommendations that will improve the operations of a business.
There are two types of references you should select for an analyst position. The first is a professional reference – or someone you respect that you've worked with – or is a fellow operations analyst. The second would be a personal reference – or a family friend or mentor who speaks to your personality, work ethic, and interpersonal skills.
How to Format This Section
With any professional resume, it's a good idea to select two professional and one personal reference. You can see that our candidate Jessica has done this on her operations analyst resume. List their full name, their employer (or where you connected), and the phrase "available upon request." You don't want to list anyone's contact info for privacy reasons publicly. If the hiring manager wants to speak to your reference, you can provide their information privately.
Section #6 - Skills
We're nearing the end of your resume – and it's another easy one to complete. Knowing what skills to put on a resume for business operations analyst will save you time and take advantage of automated software used by recruiters. The technical skills section on a resume is a series of bullet-pointed keywords or action verbs that articulate the strengths and abilities you possess.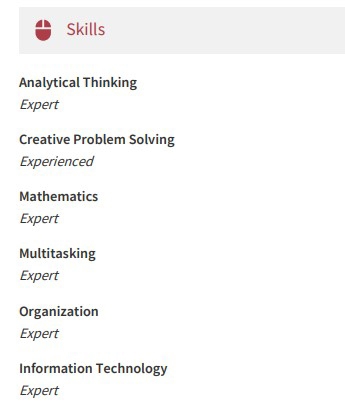 For operational analyst positions, a few of the critical keywords to mention – throughout the resume and/or skills section include time management, critical thinking, analytical processing, attention to detail, communication, problem solving skills, business management, mathematical skills, computer skills, and information technology or cloud-based technology.
How to Format This Section
Another benefit of using a resume builder is formatting your skills section. You'll notice on our operations analysis resume sample that the skills have been listed at the bottom of the resume. Further, Jessica has assigned a skill level with each – with multiple options to select your ability. You should pick five to seven of your top operations analyst skills.
Related Resume Templates 
There are multiple types of business analyst positions available today. While each has a unique specialty and requirements – you can learn quite a bit from other resumes in this industry. We've collected several sample resumes in the operations analyst and other related industries that can help you develop ideas that you can integrate into your resume.
Take some time to review the samples below, take copious notes, and consider using our resume builder to format your resume quickly.
Final Points on Writing Operations Analyst Resumes
The best operations analysts pay attention to details, have an uncanny ability to review copious amounts of data, and make solid recommendations that will help improve the efficiency of a business. While there are several positions available – there are also many qualified candidates fighting for those jobs.
The key to gaining a competitive advantage in writing a fantastic operations analyst resume. Here are some final thoughts to consider when planning, outlining and optimizing the perfect resume.
Start by using a Master Resume to flesh out all sections. This will make it easier to write, organize, and edit your operations research analyst resume.
Structure the resume as we've recommended – using those primary sections in the order we listed.
Make sure your resume has a natural flow and is written with a professional yet conversational tone.
Always write your resume on a plain white background with black font. This will ensure your operations analyst resume summary stands out and is easy to read.
Edit the document SEVERAL TIMES – through Grammarly.com and visual inspection.
Ensure its well-spaced, organized, and professional.
Finally, read it aloud a few times before you're ready to paste the content into a resume builder or template.
The operations analyst's resume should showcase their experience and interpersonal skills. Suppose you can infuse critical elements, sprinkle in those key action verbs, and prove why you're perfect for that job. In that case, you'll have a better chance to dazzle them during an interview.