How to write a winning resume objective? The best tips, tricks, and examples!
How to write a resume objective that gets results? 
When creating a great resume, don't overlook the objective. This short profile statement is one of your most effective tools for marketing yourself to employers. A well-crafted objective intrigues the reader into considering the rest of your resume. Along with your experience section, it can move your resume from the pile to the hiring manager. Let's look at how to write a persuasive objective that helps you land a job interview.
What is a resume objective?
A resume objective explains your purpose in applying for a particular position and conveys why you are a good match. It is sometimes called a personal profile, summary, or statement. You've probably heard that the first 30 seconds of a job interview determine its success. The objective makes the same first impression for your resume. Every recruiter or hiring manager skims hundreds of resumes with the same question in mind: Is this the best applicant for the job? The resumes that don't quickly convince rarely make the next application round.
A compelling objective, on the other hand, answers this question before the reader judges your work history. Your profile statement should persuade the hiring manager that you are a strong applicant worth contacting. The remaining resume sections should support this conclusion.
A good summary covers:
The specific job you are applying for and its company or organization name
Your skills, competences and accomplishments as they relate to this job
Your professional goals that explain why you want this job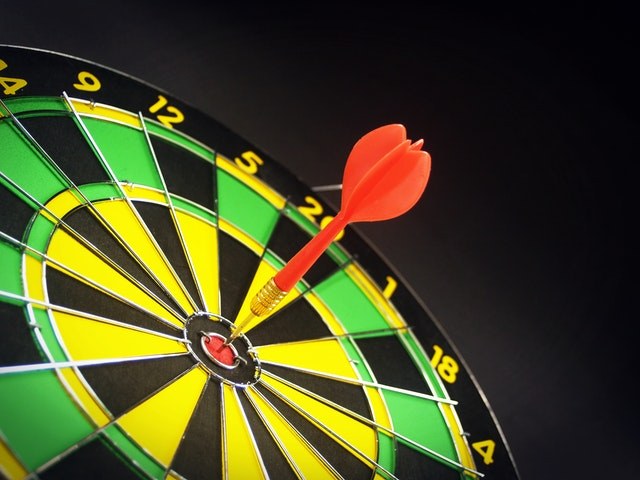 What should a resume objective include?
This personal profile differentiates you from other applicants and is your chance to stand out. It should be concise, call out relevant skills, name the job in question, and state the benefits you offer. In other words, your statement should convince the recruiter or hiring manager to contact you. Whew! That's a tall order for a sentence or two. Let's break it down.
Lead with your strengths
How many resume summaries have you read, or possibly written, that began with "motivated team player"? Avoid clichés like this that apply to most people, and lead with your strengths. This can take some soul searching. Sometimes, we more easily recognize the assets of others than our own. Also, many job descriptions compound the problem by posting a tough wish list of qualifications. If you don't meet them all, which strengths should you include?
First, ditch the broad descriptions such as "motivated team player" and "hard worker." Most roles require you to get along with others, so you can assume it's a given. Managers also expect you will be motivated to work hard in exchange for a paycheck.
Second, know your strengths. It may help to write them down and to ask a trusted friend or coworker for their input.
Third, think about the open position and which qualities would make a person successful at it. Write them down.
Fourth, compare the two lists. Can you identify the overlap between your skills and the work requirements? These common strengths are your sweet spot and the ones to highlight. You offer more than being a motivated team player, so tell potential employers.
Tie your past to the present job
You want to make the hiring manager's job easy by showing how your experience qualifies you for the position. If your work history isn't an obvious fit, your profile statement can help fill in the story.
Identify your transferable personal and job skills. Examples of personal qualities include good judgment under pressure, effective leadership, and meticulous craftsmanship. Work skills used in various roles and industries include office applications, webmaster, forklift driver, and event planning.
Consider your volunteer and other unpaid work, especially if you are new to or re-entering the workforce. If you learned Microsoft Excel while volunteering at your child's school, that counts. If you gained cooking skills while helping in your uncle's restaurant, that counts. If you practiced event planning by hosting meetups, that counts.
Think about what the job likely entails beyond training. Do you need excellent critical thinking skills? The ability to switch gears quickly? A knack for working with the public?
Target your message
You want to create a profile for each job you apply for, referencing the job title and company or organization. Choose job description keywords that you can gracefully embed in your statement.
Also, take note of the description's tone and verbiage. Does the culture seem formal or casual? Are you expected to multitask or spend long hours on one project? How social will you need to be and with whom? Working heavy phones is a different experience than managing in-person workgroups. These nuances will help you craft your message.
Keep your statement concise, and favor facts and action over description. You have a lot to say briefly, and every word counts.
Mention relevant training
You should note relevant certifications or licenses, especially if required for the job. Some common examples are a state teaching credential, a real estate license, and a car mechanic certification.
Mention a college or vocational school program if it is directly relevant to your qualifications and might not be assumed. One common scenario is if you are new to the job market and completed a vocational program such as for electrician or culinary arts. If you are a career changer, you also want to note any retraining.
Do I need a resume objective?
Resume objectives go in and out of fashion, confusing when you're trying to present yourself in the best light. Will including a profile in your resume help or hurt you?
An objective can help you whenever it makes sense to draw attention to assets or experiences that relate to the job opportunity. Consider using one if you:
Want to highlight what you bring to a specific job opening
Have job gaps
Lack work experience
Are making a career change
Have relevant history that may raise questions, such as job hopping
A profile can make a favorable first impression before the reader finds any red flags with your job history. If you lack experience, you can emphasize education or volunteer work. If you are changing careers, you can name transferable skills. Remember, your goal is to get the interview. Once you do, you can address your resume experience in more depth.
Where should I place the objective?
Convention places the objective below your name and contact information at the top of your resume. In other words, it is the first substantive content on your resume and sets reader expectations.
People successfully experiment with resume formats, especially in creative and entrepreneurial fields. However, the profile likely better serves your goals in its traditional spot under your first-page header. It introduces you to potential employers. Don't risk a muddled message by placing it below another section.
How long should an objective be?
If your resume tells your professional story, then the profile is the punchline. This statement should be one or two sentences. That's it. Any longer, and you will dilute your message. Too short, however, and your statement will be too generic to grab attention.
Let's compare some examples.
An example that is too long
"Motivated and hard-working computer science graduate with a 3.7 GPA and willingness to relocate. I have a passion for good user interface design and a talent for graphic arts. I volunteered on several accessibility projects and am familiar with Web Content Accessibility Guidelines 2.0. I desire a position as a mobile application user interface designer with an emphasis on accessibility."
This statement loses the reader because it does not convey the value this person would bring to an opportunity. Many new graduates have good grades and are willing to relocate. Neither attribute means someone is a good fit for a particular job unless it is in Antarctica. Similarly, the passage doesn't link the applicant's skills to a specific position.
An example that is too short
"Computer science graduate familiar with accessibility guidelines seeks position as a mobile user experience designer."
This statement is too general. It says nothing compelling about this applicant and doesn't address a specific opportunity.
An example that is just right
"Creative and dedicated computer science graduate experienced in accessible user interface design seeks position as a mobile user experience designer with HealthyApps, where I can champion accessibility in world-class wellness solutions."
This statement conveys the applicant's specific qualifications and interests and ties them to the job opening. Because this new graduate volunteered extensively on accessibility projects, he or she can legitimately claim experience.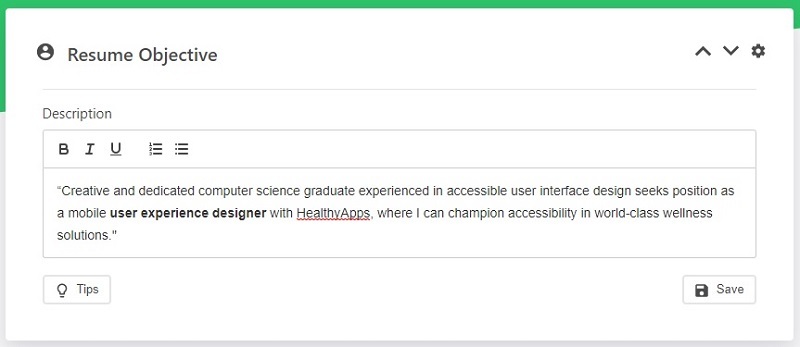 * Adding a objective to your resume using CVmaker. With the controls to the right the positioning and label of the objective can be edited as desired.
Examples of objectives for various fields
Teacher example
"Dedicated new Arizona teacher certified in STEM seeks to apply my passion and science curriculum expertise in the position of fourth-grade teacher at Maxwell Elementary School."
Why this works: This statement emphasizes proficiency in high-demand science subjects and names the desirable STEM certification. This applicant also turns a new career into an advantage by noting dedication and passion in a field known for high burnout rates.
Software engineer example
"Software engineer with extensive full-stack development experience and strong record implementing complex business requirements seeks a lead engineer position with BizAppsCorp, leveraging my technical and customer relations expertise to deliver best-in-class B2B solutions."
Why this works: This statement highlights marketable full-stack experience and strength in translating customer requirements into workable technical solutions. Many technically competent engineers spend little time on the business and administrative aspects of creating a product. This applicant demonstrates the versatility needed in a lead role.
Customer service example
"Customer service professional adept in handling heavy volumes of phone, email, and chat support for consumer websites and with an excellent customer rating. I seek an internal customer support position at MallCanyon.com, where I can use my problem-solving and communication skills and dedication to customer satisfaction to increase operations department productivity."
Why this works: This applicant is shifting roles within the same job family from consumer to employee support. The statement shows the ability to work quickly under pressure and use good judgment and tact with customers, all transferable skills to an internal role.
Project manager example
"Project manager with experience leading technology projects through the software development life cycle on time and within budget seeks to deliver success as mid-level project manager for FinByte's complex projects."
Why this works: This junior manager demonstrates proficiency in managing the software development process and project constraints, both prerequisites for the more challenging projects sought.
Car mechanic example
"Experienced car mechanic ASE certified in light-duty hybrid and electric vehicles seeks mechanic position with Hybrid Automotive Specialists. My goal is to provide state-of-the-art service to hybrid and electric vehicle customers."
Why this works: This example showcases the mechanic's industry certification and expertise in hybrid and electric vehicles. It demonstrates dedication to a specialty market.
Cleaner example
"Bonded cleaner with 10 years of experience in varied commercial and residential settings seeks position with Excel Cleaning, where I can bring my dedication and thoroughness to long-term business customers."
Why this works: This statement underscores the applicant's depth and range of experience, which suit the stable commercial position desired.
Nanny example
"INA credentialed nanny experienced in infant care seeks representation with the Windy City Nanny placement agency to find a full-time match. My goal is to use my competency and nurturing skills to enrich a Chicago-area family long term."
Why this works: This profile highlights a respected international credential and infant care experience. As nannies must work in person with their clients, it also names the desired geographic location and type of position. This example also targets a specific placement agency.
Personal assistant example
"Organization and communication expert with substantial business experience seeks to apply my office management and team-building skills as Executive Assistant to the CFO at WeWinCo."
Why this works: This person is returning to the workforce later in life. This profile ties a stable job history to the current skills needed in an executive assistant.
Avoid these pitfalls in your objective
A list of demands. You may have heard that asking for the impossible gets you noticed, but that tactic falls flat in a resume. Don't turn your profile into a wish list for your dream job. Instead, tailor it to the specific position you are applying for.
Your dramatic side. Adding flair to your profile does not mean including humor or bizarre facts that have no bearing on your worth as a job candidate. Show your uniqueness by detailing what makes you the best professional fit.
General statements. Too many resumes have statements such as "a challenging job that uses my skills in organization and teamwork to support the company's mission." This fallback often means you are unsure what you want, or else you are trying for any job. Being vague won't help. Your best bet is to get clear on the assets you bring to the table for each position. Have faith in yourself, and make that objective specific and confident. You are someone's dream candidate!
Reusing your profile. You've written a great statement and want to send it to each job for which you apply. Don't. Employers will be more impressed by a tailored objective. It shows you care enough about this job to walk in its shoes and say why you should occupy them.
Not explaining the value you would add. Don't expect employers to figure this out in the few seconds they grant to your resume. Use your profile statement to tell them.
A mismatch between the summary and the rest of your resume. This can easily happen when updating your resume or capturing a major shift, such as a career change. The best prevention is to tailor your entire resume to each job for which you apply. The extra work will pay off.
To your success!
You now understand the marketing might of the resume objective and how to create one that gets your resume noticed. Your next step is to put it into practice and target the right opportunities for your success.