Consulting Resume Sample, Example & How to Write Tips 2023
Even the most successful business with a strong internal management team can occasionally benefit from an outside opinion. This is the job of professional consultants, or experts in a specific field of study, industry, or business process management – who are retained by companies large and small to fine-tune their operations. While these jobs are niche-based, many candidates struggle with knowing how to create an engaging consulting resume.
Contrary to belief, writing excellent management consulting resumes is not rocket science. In fact, the more you stick to fundamental writing best practices but insert a few specialty sections, you'll be ahead of the competition.
The article below will explore the facts about writing a resume for management consulting positions. We will provide a few sample consulting resumes, from an entry level resume for consultants to an experienced business consultant resume. Our professional writers will also guide how they format a strategy consultant resume and some keywords you should include.
If you're ready to learn the best practices for writing consulting resumes – let's get started.
Consulting Resume Examples
Consultants range from specialists within specific operational tasks (such as logistics, manufacturing, administrative tasks, or sales) or individual industries. The diversity of these positions tends to create confusion about how to format resumes for consultants.
Our team of professional resume writers has created two consultant resume samples to provide clarity.
General Consultant Resume Sample
One of our professional writers wrote this sample resume for consultants. In this situation, the candidate (Charlie Smith) is a general business consultant that serves the logistics and supply chain industry. He has eight years of experience serving as a business consultant and 10+ years of management experience for third-party logistics companies.
As you read the resume, pay close attention to the layout, the tone of his writing, and some of the critical action verbs (or consulting resume skills) that hiring managers (and software) will pay attention to when selecting candidates for interviews.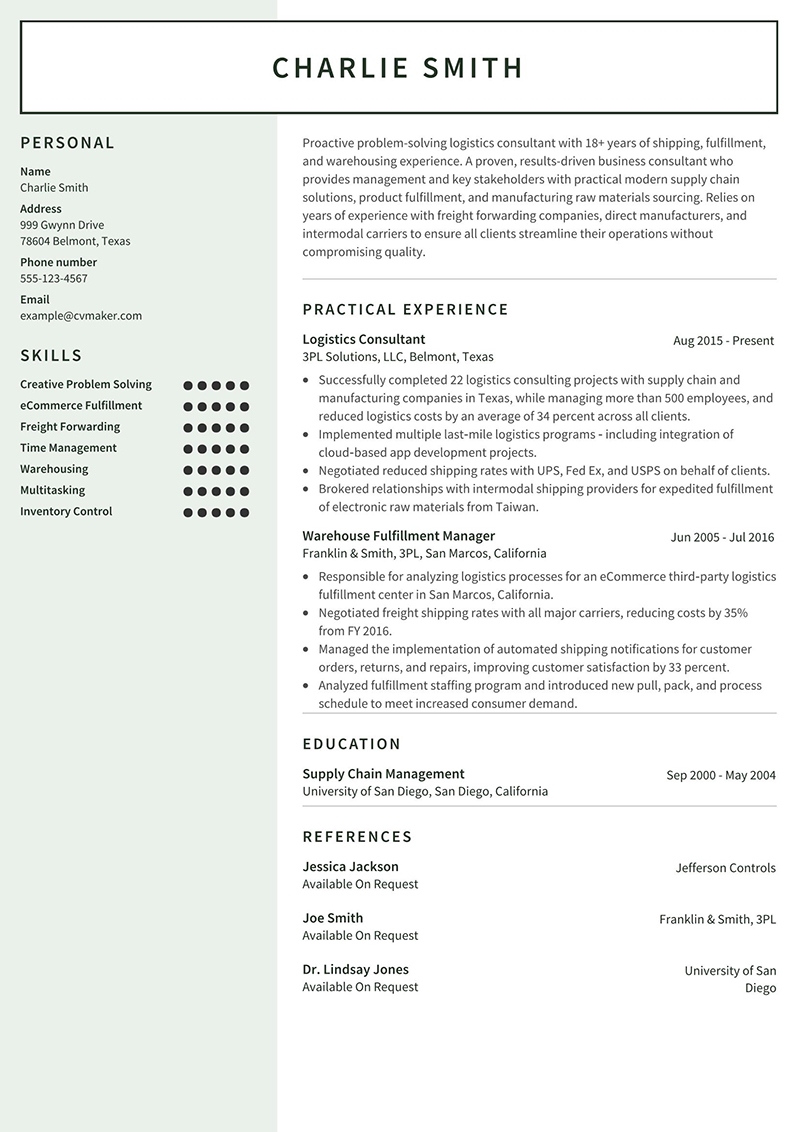 The best resumes flow from start to finish, telling a story about why the candidate is the best person for that specific job. This is what Charlie has accomplished with his consultant experience examples resume.
The resume is clean and organized and provides all the elements and sections that should be included in any logistics industry resume. The consultant's resume objective mentioned his experience as a logistics industry consultant.
As you continue into the work history section, you'll notice that he selected the two most-recent supply chain-specific jobs. In this case, he's listed his private contractor consulting position and a previous job as a logistics manager for a major company. With each job, he listed a few bullet points of critical accomplishments and tasks to showcase success stories and his ability to start a new job without significant training.
Further in the resume, Charlie documents his highest level of education completed and provides a few references (including two from his previous employment listed on the resume) and the skills that will allow him to accomplish daily tasks with a focus on quality and efficiency. Finally, you'll notice that this consultant resume template is grammatically clean, free of spelling errors, and has the same font.
Financial Consultant Resume Example
Our next sample resume showcases how an entry-level financial consultant might want to attack their project. In this case, our candidate Clair has written an exceptional resume that showcases her financial planning and analytical expertise. As an entry-level consultant, she focuses on explaining why she possesses the relevant industry experience to guide organizations as a paid consultant.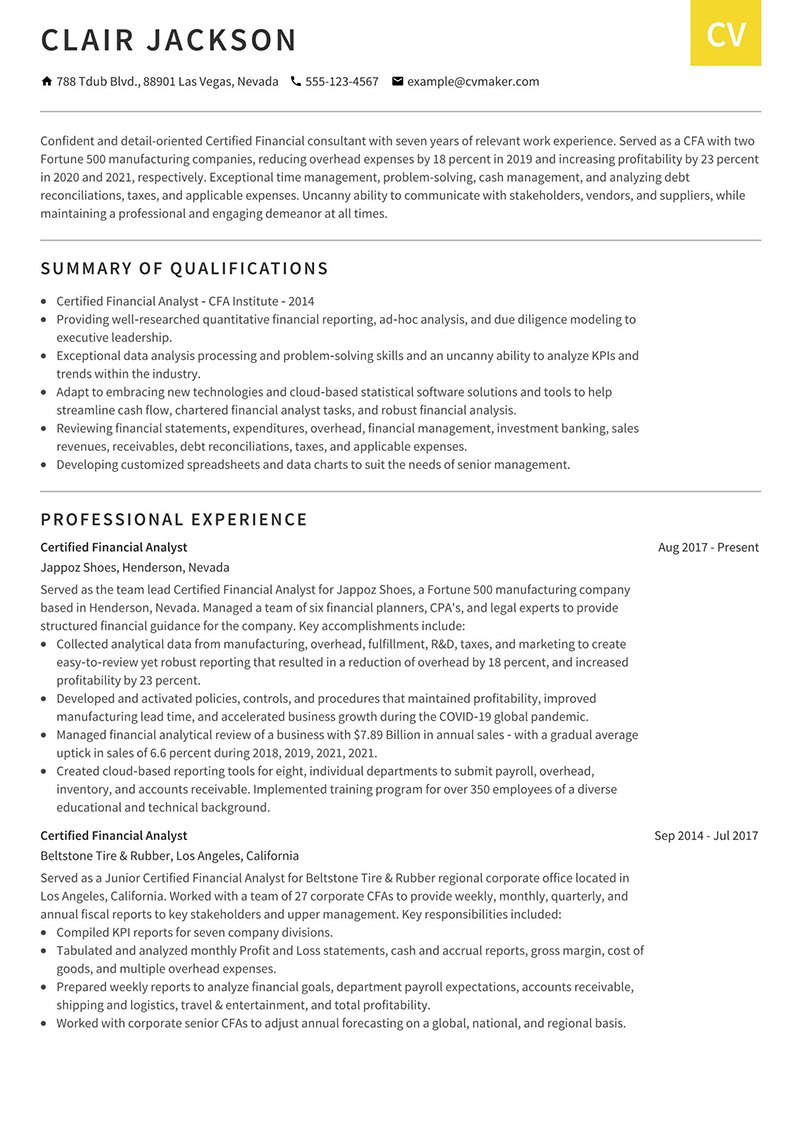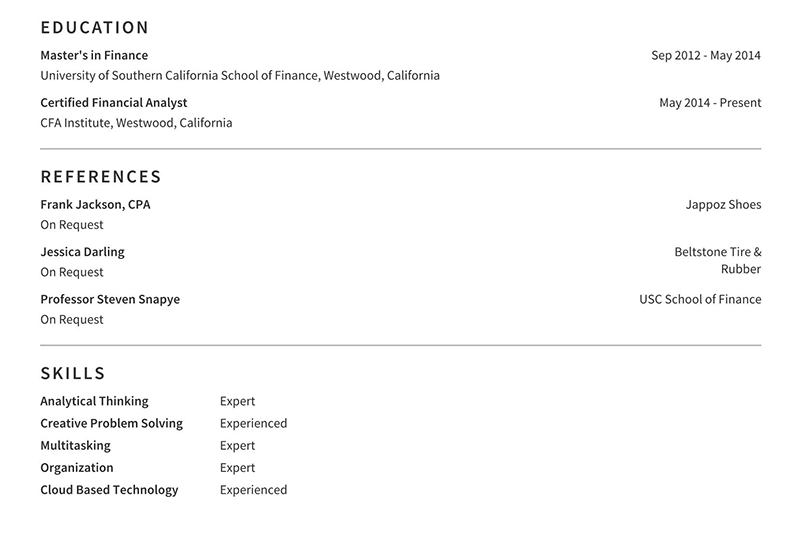 The secret to composing an entry-level consultant resume is showcasing your industry or job expertise. The example CV above is an excellent illustration of this. Thomas, a financial analyst consultant for a manufacturing firm in Las Vegas, Nevada, is creating a hypothetical resume.
The resume should always back up the information given in the application. This includes matching contact information, work history, education, skills, and references between the resume and what was submitted with the initial application.
This is the consistency and attention to detail sought in most financial consultant positions. By displaying it in the resume, application, and cover letter, you provide the employer with a real-world example of your skill.
How to Write a Good Resume for Consultants in 2022: Full Guide to Successful Consulting Resumes
Projects large and small are more likely to succeed when you start with a clear plan. Our team follows a process: first, we create the content using a master resume. Then, we outline the format and edit the content before transferring it into one of our consultant resume templates. By following this system, we can be confident that every project will be successful.
A master resume is a valuable tool that may be used to create your significant sections, include relevant information, arrange the structure and layout, and edit for spelling and grammar.
Furthermore, this document lets you quickly search for keywords or action verbs and insert them into the content that automated software programs look for. This ensures that they read naturally, catching the attention of hiring managers.
As stated above, you can kill two birds with one stone when you insert those important keywords (and we'll provide them for you in this article). Also, when everything has been fine-tuned, it's easier to paste the content into a resume builder. Using a master resume will significantly improve the quality of work, reduce mistakes, and produce a fantastic, finished consultant's resume.
Here are a few recommended sections that we think should be included in any consultant resume.
Personal Contact Information
Professional Summary
Practical Experience
Education
Skills
References
Now that we have provided the blueprint, let's outline the details that should be included in each section of your resume. Listed below are a few of our best resume tips for consultants.
Section #1 – Contact Information
As you apply for leadership positions, it is essential to have consistent contact information across all platforms. This will make the job of recruiters and hiring managers, leading them to take your application more seriously.
Additionally, listing your contact information on your resume shows that you are detail-oriented--a skill integral to any consultant position.
For contact information, keep it simple. Your entire professional name, including your last name, should be included. Also, your mailing and email address and a phone number. There is no need to add your LinkedIn page or other social media pages - unless you are asked.

Although it may seem like a minor detail, double-check that the email on your resume is synced to your phone. Many recruiters use automated systems that reach out via email or SMS to schedule interviews, so you want to make sure you don't miss any messages. This type of know how is critical for not missing out on opportunities.
How to Format This Section
Using one of our simple-to-access resume templates, we've made the example resume above. We provide a variety of formats but having your personal contact information in the top left corner or at the top of the document - in the middle of the page - is vital. This makes it easier for hiring managers to find and looks clean, neat, and organized.
Section #2 – Resume Summary 
The second component of your consultant resume is the resume summary. We think this is the most crucial part of getting it right. The resume overview summarizes your candidacy, employment history, hard and soft skills, and critical interpersonal abilities that make you a successful consultant.
Let's look at how two different types of consultants wrote their resume summaries for comparison.
Entry-Level Consultant Resume Summary

The entry-level resume for a consultant should focus on your industry expertise - especially since it's likely that you don't have a lot of consultant services to showcase. This is what our candidate Clair has done in her resume summary. Take note of how she writes her summary - focusing on the practical work experience that makes her an expert in the industry she serves.
Experienced Consultant Resume Summary
If you're writing a resume as an experienced consultant, you should focus on introducing some of your success stories. Such is the case with Charlie's sample resume section below. You'll notice that he starts similarly to Clair.

Still, the second section dives right into some of his key accomplishments in serving as a consultant for clients. He then mentions the critical interpersonal skills that make him an enjoyable team member. This type of resume writing strategy is very successful for consultants who work in management or leadership positions.
How to Format This Section
The sample resume section above shows you exactly how to format the summary. The summary should be written as you speak during an interview – with a professional yet conversational tone. It should be around 100 to 150 words or four or five complete sentences.
Section #3 – Practical Experience
Having adequate practical expertise is more essential than having a lot of employment. As a result, we designate this section as a practical experience vs. job history. One of our best insider tips is to go through the job description in a posting for the consultant position (if one exists).
In many cases, they'll tell you precisely what their candidates require – specifically, the scope of their business. However, most consultant positions are retained by the candidate pitching their services to clients - vs. the company actively seeking one.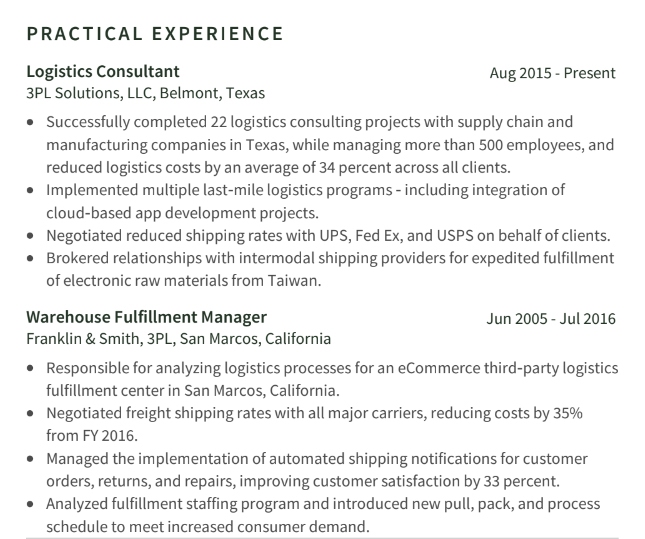 For example, in Charlie's resume, he's listed two relevant examples of practical experience – one serving as a consultant for a large fulfillment company, and the second is his experience operating a business.
After listing the job title in the relevant experience section, he lists bullet points of key accomplishments. That's the key to having your resume stand out – inserting information or practical examples relevant to the job you seek.
How to Format This Section
The sample resume section posted above showcases how you should format this section. List the company name, location, and dates of employment. Put these in reverse chronological order, starting with your most recent job. Keep the bullet points to short sentences unless the specifics dictate.
Section #4 – Education
Many companies or consulting firms that seek consultants expect them to have some higher education degree. Many businesses will have strict requirements for any paid consultant they retain.
However, when writing your resume, you should never consider these possibilities. The focus must be on documenting the highest level of relevant education that supports your candidacy for the industry you serve. There is no need to list your high school education in a professional resume, unless it's your highest level of education.

As you can see in Charlie's resume, he has listed his highest education completed. In his instance, he earned his bachelor's degree in Supply Chain management from the University of San Diego. His specialty is linked to the education he has earned - which is crucial for consultants to showcase - along with his practical skill set.
How to Format This Section
The resume format for your education section should be simple, only listing the essentials like the school's name and location, dates of attendance, and any earned degree. Unless the company asks, there is no need to add bullet points about courses, extra-curricular activities, GPA, standardized test scores or specialties.
TIP: If your consultancy expertise requires any certifications, create a separate certifications section - but follow the same format as the education one.
Section #5– References
The responsibilities of a consultant vary depending on the company they work for. Some are asked to only report to leadership, while others have more people and departmental oversight. This professional diversity is an asset, showing you can adapt well to different situations.
As a consultant, highlight your diversity in handling responsibilities in a cover letter and during interviews. But, besides your resume summary, it doesn't belong in your resume.
References serve to provide support to the information you provide to prospective employers. This is what Clair has done with her references.

Choose your professional references carefully. They should be able to attest to your communication and organizational skills and your experience training employees and analyzing stakeholders (if required for your consulting job). We recommend choosing two professional references and one personal reference.
How to Format This Section
Best practices for writing a perfect resume suggest keeping the reference section private and straightforward. However, you need to maintain their privacy, which is accomplished by listing their name, place of employment (or where you know them from), and the phrase "available upon request."
If your future employer wishes to contact them, email them their contact information privately.
Section #6 – Skills
The professional summary section highlighted the essential talents for being a great consultant. If you can't fit all those abilities into the area that reads naturally, place them in the skills section instead.

You'll see that Clair has accomplished this in her sample resume. She included several of those keywords naturally and convincingly in the summary but listed others in bullet points at the bottom of her resume.
She has mentioned consulting skills and competencies like problem solving, analyzing and creating metrics, leadership skills, teamwork, and communication skills.
How to Format This Section
You may list your abilities in two areas - at the bottom of the resume or in a sidebar. Regardless of which you pick, keep it basic. Mention any skills you have that would help you advance as a consultant, such as those listed on the example resume above. Some of the greatest resume templates, such as CVMaker.com, allow you to grade each skill independently.
Other Related Resume Templates 
Although you might have felt that producing a qualified resume from start to finish was difficult, we hope reading the above article will bring you some confidence. We've made it simpler for you if you want to learn more by perusing numerous consultant resume sample examples.
Our team has created a collection of related resume templates so you can get ideas or inspiration for your finished document.
Review some of the best resumes for people who provide expertise or serve as leaders within an industry for some additional ideas.
Final Points on Crafting Effective Resumes for Consulting
A consultant position is typically sought after - to fix something broken within an organization. As such, your resume should be written to showcase your ability to resolve the specific issues that are common within your area of expertise.
The key to standing out amongst the pool of candidates is focusing on the minor details that hiring managers look for in applications, a cover letter, and a resume. The information above will serve as an outline of how to format and write each section. However, here is a recap of the essential tips for writing Consulting resumes if you prefer.
Take time to outline each section of your resume using the master resume.
Use black font on a clean white background document.
Don't be afraid to review other Consulting resume samples.
Write your resume objective like an elevator pitch.
List your work experience in reverse chronological order – and only practical work history.
List at least two professional and one personal reference.
When you've listed everything mentioned above, copy and paste the content and place it in a Word doc or run it through a spelling/grammar-checking website like Grammarly. Always take time to proofread your resume before pasting into a template.
When you've completed your document, consider using a resume template that will permit you to copy and paste the content into the formatting tool. The best consulting resume templates allow each candidate to customize theirs to suit their personality or the company they intend on working with.